Natural skin care routine for teenage skin
25/03/2021
The passage to adolescence brings about many hormonal changes and the skin reflects this transition from child to adult. The appearance of small pimples, acne, oily skin, blackheads, microcysts... Skin reactions are diverse and can have a strong influence on your mood. It's time to learn the right beauty reflexes to take care of your skin and get rid of those little imperfections that make life difficult for you, especially at this age. Follow the guide to a natural skin care routine for young skin!
WHAT ARE THE SKIN CHANGES DURING ADOLESCENCE?
During the different periods of our lives, the skin expresses itself and changes. During puberty, hormones are in full swing and upset our skin balance. The sebaceous glands, which normally prevent the skin from drying out, begin to produce sebum in large quantities, leading to the formation of pimples, blemishes, acne and lesions of varying degrees of inflammation. The sebum present on the surface of the epidermis leaves the skin with an oily appearance, particularly in the T-zone (nose, forehead and chin). Sebaceous glands are present in large quantities on the face, back, shoulders, décolleté and arms. This is why blemishes appear in these areas of the body. Acne affects an average of 80% of young people, and 20% of them report a moderate to severe form. This chronic inflammatory disease lasts an average of 3-4 years and often disappears in adulthood (around the age of 20), but it can sometimes leave some acne marks and scars, especially if the right steps are not taken.
Depending on the degree of severity, you will be advised to undergo appropriate medical treatment. However, in order to minimize the effects of acne, it is important to treat your skin with kindness and find the right beauty routine.
GESTURES TO AVOID FOR TEENAGE SKIN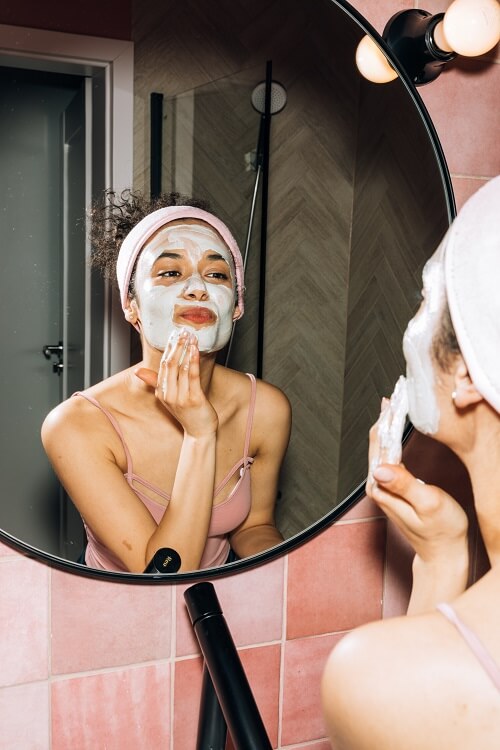 Using inappropriate care
When the first pimples appear, we tend to quickly turn to drugstore/parapharmacy products or big-box skin care products to get rid of these imperfections. However, be careful: many cleansers or micellar waters are too aggressive for the skin and tend to strip it completely. The skin then feels attacked and produces even more sebum to protect itself, which is the beginning of a vicious circle. One of the bad habits is also that of overloading the skin with care products. The active ingredients in products can be less effective if they are mixed with other substances. Finally, changing skin care products too frequently does not give the skin time to acclimatise to the new product and the skin may not appreciate it. Young skin should be treated with patience, gentleness and care.
Triturate its imperfections
Hands up! Although it's very tempting, we don't touch our pimples, we let the skin care products take care of them and our skin will finish the job. By trying to pop our pimples, we risk infecting them, especially if our hands are not clean. We damage the surface of the face and can even leave scars. The only thing that is allowed is to eliminate your blackheads, but in the proper way: by first steaming your face to open the pores, with clean hands, a handkerchief and by pressing gently on the area.
Do not protect yourself from the sun
Always protect your skin from the sun, and even more so if you have young skin with imperfections. The sun dries out the epidermis, even if the skin is oily. To rehydrate the skin, the sebaceous glands will produce more sebum. Also, with the sun, the skin thickens and gives the impression that the pimples have disappeared when they are just hidden underneath. Once the summer is over, an inevitable rebound of imperfections occurs. So beware of the sun, protect yourself with sun cream, a hat and avoid the times when UV rays are most aggressive.
A BEAUTY ROUTINE WITH NATURAL AND EFFECTIVE CARE 
Certified organic products, natural, respectful of nature and the environment and effective... That's what we want, right? So here we go! We propose a skincare routine adapted to teenagers, with oily, blemished and sensitive skin. Teenage years are the ideal time to implement the right steps to take care of your skin and preserve it.
1. Facial cleansing with make-up remover oil
I LOVE THE MAKE-UP REMOVER OIL
---------------------------------------
The teenage years are often the time when we take our first steps into makeup. But if we choose to wear makeup, we must not forget to remove it at night. This step is very important for healthy skin and helps limit the number of imperfections, already triggered by hormonal changes.
For make-up removal, at Akane, we have developed an organic make-up removal oil, enriched with sunflower oil, a non-comedogenic oil. The oily texture allows to dissolve all the make-up and leaves the skin soft and clean once rinsed. This make-up remover oil is perfectly suited to oily and acne-prone skin and does not leave a greasy film on the face. In addition, it does not sting the eyes and waterproof makeup is not resistant to it!
Directions for use: Warm a little oil between your hands. Apply to the whole face and dissolve the material with circular movements. Once the make-up is dissolved, rinse the skin with lukewarm water.
2. Cleaning the skin with a mild cleanser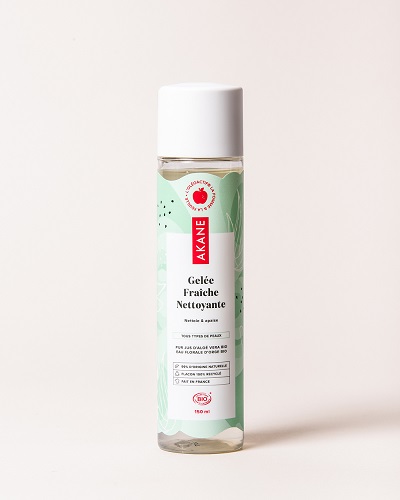 ---------------------------------------
In addition to the hormonal changes of adolescence, the skin accumulates dust, perspiration, pollution, sebum throughout the day... In the evening, it's time for a new skin! Facial cleansing should be done after removing make-up with oil, with a gentle product that respects the protective film of the epidermis. Despite its imperfections, teenage skin remains fragile and sensitive, so there's no need to attack it with harsh cleansers.
At Akane, our organic face wash is ideal for teenage and more sensitive skin. It is made of pure aloe vera juice and contains no sulfates. It deeply cleanses the skin without drying it out and eliminates impurities. Its gel texture transforms into a delicate foam on contact with water and is very easy to rinse off. Day after day, the skin becomes healthier and imperfections are reduced. Regular cleansing is the key to beautiful skin. Aloe vera has antibacterial and antiseptic properties, which makes it a very good skin cleanser by nature!
Directions for use: In the evening, moisten the skin and apply a small amount of product. Massage the face for a few moments then rinse with warm water. For a gentle exfoliation of the skin, you can also use a Konjac sponge. Moisten it beforehand and then put a little cleanser on it. Rub the sponge over your face in circular motions, paying particular attention to the T-zone.
3. Moisturizing the skin with aloe vera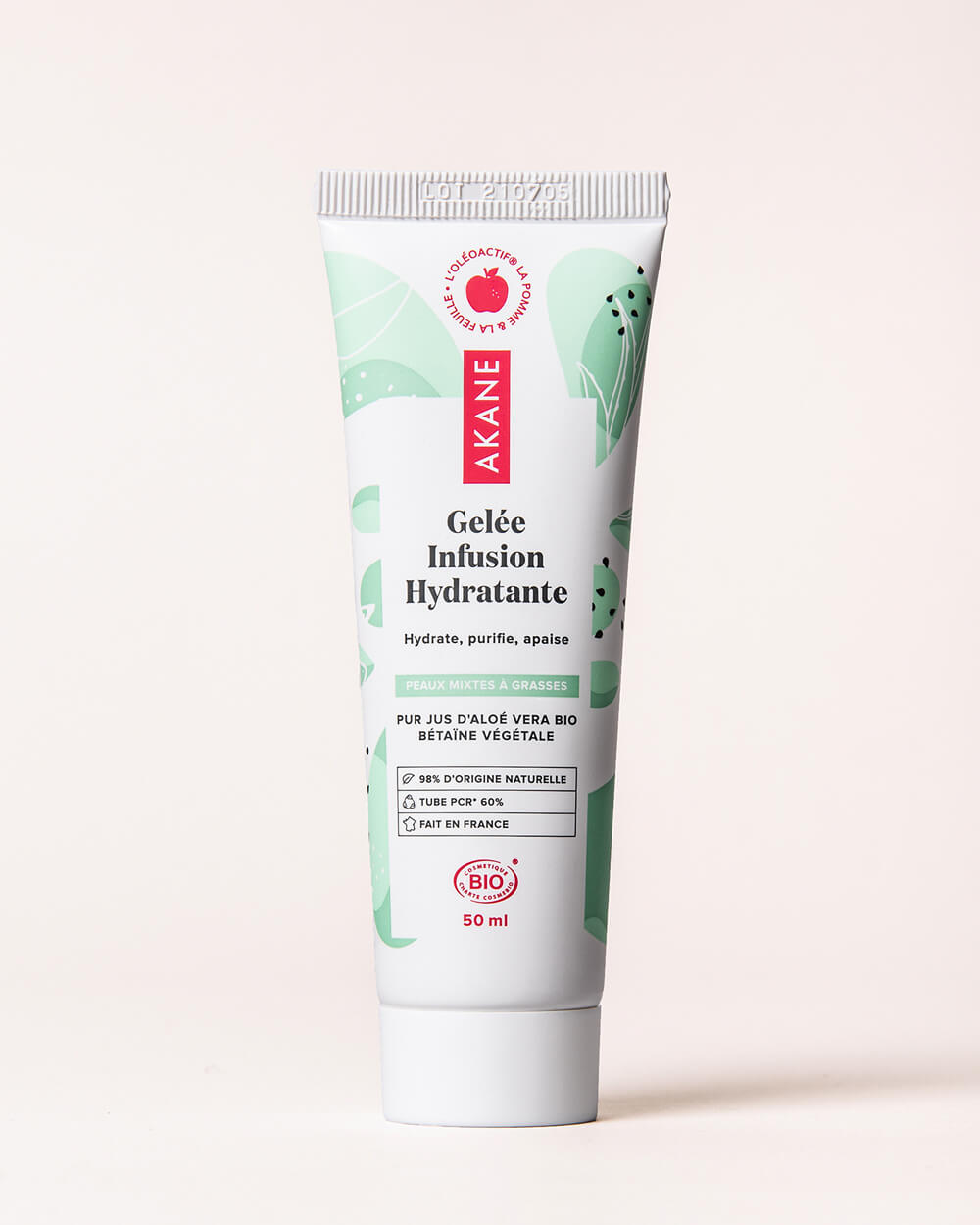 ---------------------------------------
Hormonal changes in teenagers often lead to oily skin, but oily skin needs moisture too. The key is to select the right cream that provides deep hydration without making the face look oily. And to meet the needs of teenage skin, we choose aloe vera! Aloe vera is truly everyone's beauty ally. For young skin with imperfections and for acne, we recommend its use because this plant has healing, soothing and moisturizing properties. It regulates sebum, tightens the pores of the skin and relieves skin inflammation.
At Akane, our organic aloe vera gel is composed of 95% pure aloe vera juice and vegetable betaine. Betaine helps to maintain hydration and protects the skin. This gel can also be used to moisturize hair, soothe insect bites, reduce hair removal irritation, and even soothe sunburn.
Application advice: Morning and evening, apply the jelly to clean skin and massage it in with light tapping motions. A small amount of jelly is enough to moisturize the whole face. To help small pimples to dry and diminish, you can also apply a little jelly locally and leave it on overnight.
4. The little extra of rose floral water
---------------------------------------
Floral waters, especially Damask rose water, are very popular with skin with imperfections. Damask rose water has astringent, soothing and purifying properties. This water is often recommended for oily skin with acne tendency. It also tones and refreshes.
At Akane, our Rose Water Radiance Lotion is 100% natural and alcohol-free. The Damask rose water we use is also organically grown. In addition to caring for skin with imperfections, this lotion restores radiance to the complexion and gently awakens the skin.
Directions for use: Apply the lotion in the evening after cleansing your face and in the morning upon waking up. Pour a little hydrolat on a reusable cotton pad and pass on the whole of the face and the neck.
Here is an ideal routine for young skin with imperfections, with natural, organic products, made in France and developed with love!
Skin care dedicated to young skin with imperfections
Would you like personalized advice for your beauty routine?
- Call us for free at 06 47 59 30 24our beauty consultant answers all your questions
- Make your skin diagnosis directly online.

Article written by : Aline Foulet

Founder of the cosmetic brand Bio Akane Skincare

Akane Blog