All the secrets of a glowy complexion... au naturel!
06/04/2020
From radiance to shine, there is only one step, that's where all the difficulty of the glowy complexion lies. A luminous complexion yes, glowing areas, out of the question! While waiting for the return of the beautiful days and the tanned complexion that we love so much, light on the unstoppable techniques to achieve a radiant, opaline, glowy complexion!
CARE ROUTINE FOR A GLOWY COMPLEXION
You will be able to use all possible and imaginable techniques, a successful glowy complexion depends above all on the daily care routine and lifestyle. Glowy make-up only unifies the complexion, enhances the cheekbones and illuminates certain areas of the face to reveal natural beauty. So there's no question of camouflaging yourself under thick layers of foundation while hoping to achieve a fresh, radiant complexion.
Discover the essential gestures for a natural glowy complexion:
SKIN CLEANING
FALL FOR THE TRIPLE MAKE-UP REMOVER

This step is in-dis-pen-sable for a successful glowy complexion. Morning and evening, the face should be cleansed to remove all the impurities accumulated throughout the day. Pollution, wind, dust, perspiration and make-up are all elements that clog pores, suffocate the skin and weaken it over time. The most effective method: triple cleansing! This Asian skincare routine allows you to cleanse your skin effectively for a radiant and even complexion. For this purpose:
Every morning, applyorganic make-up remover oil to a dry face. Massage your face and then rinse with warm water. Then apply organic face cleanser that you can lather with a Konjac sponge. Rinse your face thoroughly with clear water and then wipe gently. Finish the routine with a cloud oforganic rose water to energize the skin and give it all the benefits of fruit!
GENTLE EXFOLIATION
The exfoliating treatment will allow the skin to breathe, literally. Because it deeply cleanses the face, eliminates excess sebum and says goodbye to dead cells, it is a must to obtain a glowy complexion. The skin will thus be perfectly prepared to receive the following treatments and better assimilate them. In addition, the scrub serves to effectively stimulate blood circulation, and thus cell regeneration! Turn to products containing fine grains. The aim is not to strip the skin and damage it, but to gently renew it.
Once or twice a week, perform a gentle organic scrub. Apply it all over the face or concentrate on the T-zone, as the forehead, nose and chin are often the parts of the face most prone to imperfections. On a clean, damp face, apply a dab of product and massage in circular motions. Rinse thoroughly with lukewarm water and wipe off by dabbing gently, without rubbing.
MASKING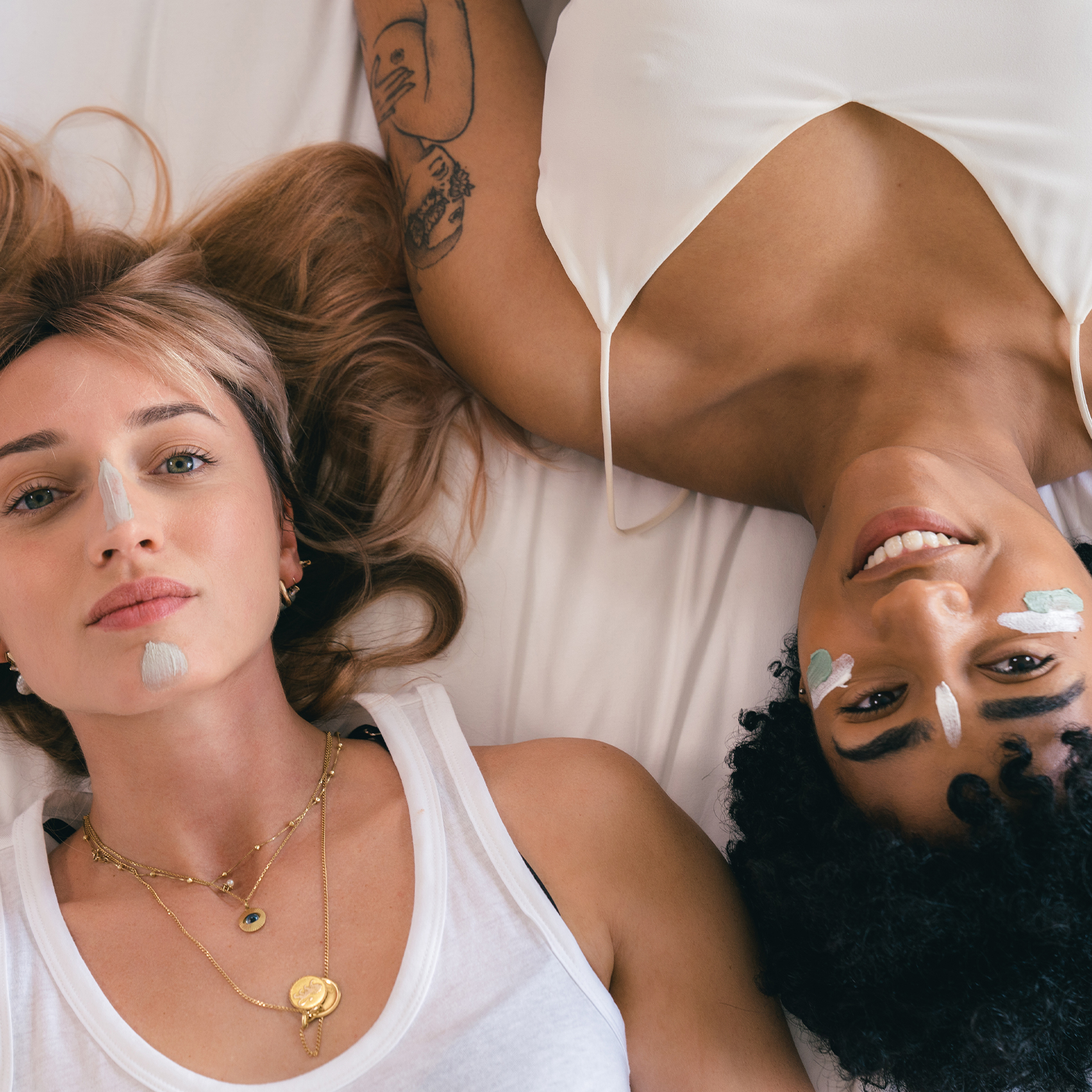 Once the skin has been perfectly cleansed and exfoliated, it is time to apply a mask. Who says glowy complexion says skin that has received the most appropriate care for its nature. You should therefore be careful to choose the right mask for your skin type: there are many clay masks available, each with its own specificities.
Green clay for oily or combination skin, yellow clay for dry skin, pink or red clay for delicate and sensitive skin prone to redness, white clay for fragile skin... There are also charcoal masks to effectively unclog pores. Depending on the masks, the skin will be nourished, purified, sebum regulated, spots reduced, the hydrolipidic film of the skin restored... the benefits are infinite, it's up to you to choose what your skin needs most!
Once or twice a week, perform the mask ritual. Using your fingers or a brush for even more softness, leave it on for the time indicated, no more and no less, so that your skin can benefit from all the virtues of the chosen product. Rinse thoroughly with clear water and wipe your face gently. You can now proceed to the moisturizing step.
HYDRATION
No glowy complexion without moisturized skin! The skin must be supple, plumped up and unified if you want the light to catch on beautifully. Here too, you must choose an organic moisturizing cream that suits your case. Nourishing and soothing cream for dry, sensitive and reactive skin, clarifying, purifying and matifying cream for combination or oily skin, anti-ageing and/or anti-spot lifting care for mature skin...
The moisturizing cream is applied to dry skin every day after cleansing (and exfoliation and mask if necessary).
APPLICATION OF A BB CREAM
For a perfect glowy complexion, the skin must be unified yes, but very lightly. Leave aside the covering foundations and prefer to use an organic bb cream adapted to your skin tone. Spots, small pimples and irregularities will be evened out without a plaster effect. The complexion is velvety, the natural colour of the epidermis is enhanced, the skin texture is regular...
Apply a veil of loose powder to mattify the T-zone and then apply a pink or apricot blush to the cheekbones to enhance their colour. Perfect this glowy complexion with a few highlights to be applied in small strokes on the wings of the nose, in the inner corner of each eye, in the hollow of the chin, on the top of the cheekbones, on the temples and in the arch of the eyebrow. The aim: to bring light to the face and erase shadowy areas. A glowy complexion guaranteed!
PEELING: THE ULTIMATE TECHNIQUE FOR A GLOWY COMPLEXION GUARANTEED!
If your skin has irregularities and you can't do without foundation, think about a fruit AHA peel! This is a technique that consists of exfoliating the superficial layer of the skin in order to rid it of all its dead cells and reveal a brand new under-layer! At Akane, we offer you the Rose Granité 2-in-1 mask combining fruit AHAs and apple seed powder for a double mechanical and enzymatic peel. The complexion reveals all its beauty, it is even and radiant, perfectly glowy!
Please always choose natural and organic products. They will help keep your skin beautiful and healthy!
WELL-BEING AND RATIONAL CONSUMPTION, ESSENTIAL FOR A GLOWY COMPLEXION IN A NATURAL WAY!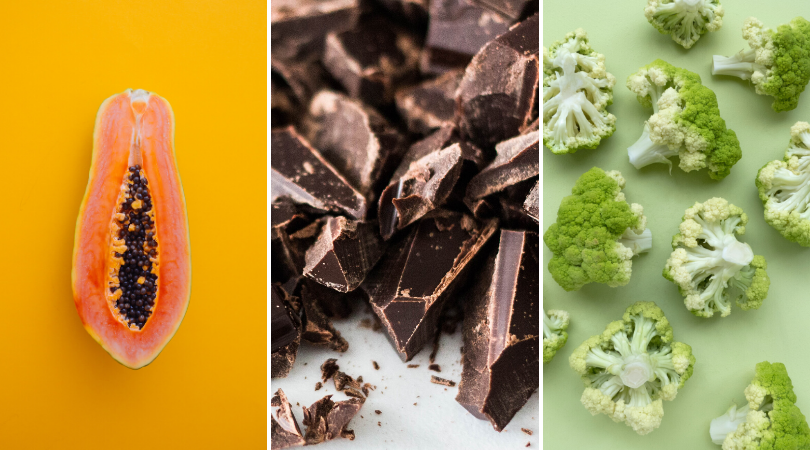 A glowy complexion will only be flawless if the skin is free of imperfections. Natural and light make-up do not really tolerate irregularities. For a skin texture close to perfection, the skin care ritual must be accompanied by a healthy lifestyle.
We know that the food we eat plays a direct role in the quality of our skin. No glowy complexion can be achieved if we tend to eat too much fat or too much sugar. We should therefore think about including vegetables and fruit rich in fibre and beta-carotene in our meals and drink 1.5 to 2 litres of water every day. Oily fish, rich in omega 3, are also excellent for the skin because they are very rich in omega 3, a powerful antioxidant.
For a radiant glow and a glowy complexion, here are 10 foods to eat without moderation: artichoke, broccoli, garlic, avocado, walnut, papaya, dark chocolate, salmon, green tea and olive oil!
Our ritual for a glowy complexion
Would you like personalized advice for your beauty routine?
- Call us for free at 06 47 59 30 24our beauty consultant answers all your questions
- Make your skin diagnosis directly online.

Article written by : Aline Foulet

Founder of the cosmetic brand Bio Akane Skincare

Akane Blog