Floral waters, the gesture not to be forgotten!
28/03/2020
Floral waters or "hydrolats" are cosmetic care products in the form of lotions containing natural active ingredients that are beneficial to the skin. To obtain these beneficial elixirs, aromatic plants or flowers selected for their properties are heated in a container of distilled water. Water vapour is then released, carrying the volatile substances into the still. Once cooled, this steam condenses, giving rise to a distillate composed of floral water, on which the essential oil, which is not very soluble in water, floats. As a result, floral waters contain only a very small proportion (less than 5%).
These deliciously scented floral waters provide many benefits thanks to the active ingredients they contain, while remaining gentle on the skin thanks to their low content of essential oils. They are therefore easy to use, as they meet almost no particular contraindications (indeed, some of them are not recommended for pregnant and breastfeeding women).
WHICH FLORAL WATER TO CHOOSE?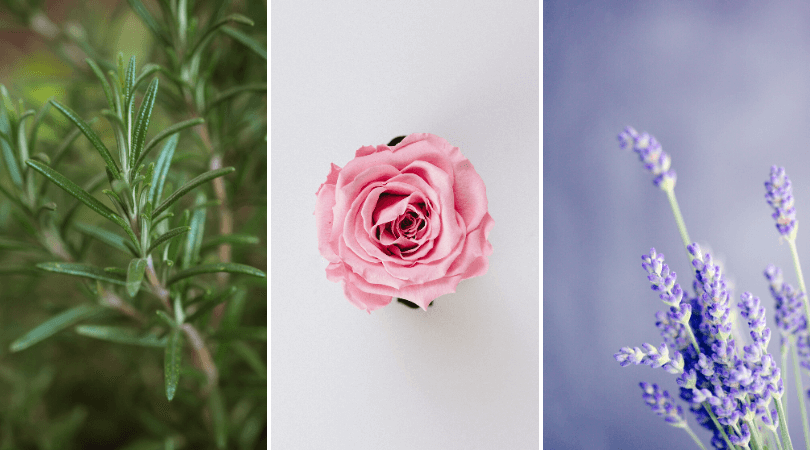 There are many different floral waters, allowing each skin to find the one that suits it best. Each of them has its own beauty benefits, but all of them allow you to perfect facial cleansing, eliminate any make-up residue, and bring to the skin all the benefits of the plants they contain.
Rose floral water: the Damask rose is the most widely used variety of flower to produce rose floral water. Its high concentration of geraniol gives it powerful antioxidant properties. Naturally antibacterial, it is moisturizing, toning, healing and anti-aging. It is known for its ability to sublimate the skin. Ideally, it should be applied in the morning to awaken the radiance of the complexion, after cleansing the face and before applying a serum and/or day cream. You can spray it directly onto the skin, soak a cotton pad and wipe it over your face or add a few drops to your daily skincare routine to reinforce its action.
Cornflower floral water: it is recommended for the care of sensitive eyes. Heavy eyelids, irritations, tired eyes, dark circles... cornflower floral water works miracles. Mixed with jojoba vegetable oil, it can be used as a make-up remover. Keep it in a cool place, ideally in the refrigerator, and soak two cotton pads: these are perfect compresses to soothe the eyes and awaken the look!
Lavender floral water: it has anti-inflammatory properties and tones tired skin. It also tightens pores, thanks to its purifying, astringent and antiseptic properties. It can be applied to the skin with a cotton pad or a mister. It is also known to be the ultimate relaxing oil... don't hesitate to spray a cloud of this floral water on your pillow, a few moments before going to bed.
Orange blossom floral water: softening and calming, orange blossom floral water also refreshes and tones the skin. It helps to take care of dry, delicate, tired or reactive skin, while leaving a delicious exotic fragrance. You can use it as a toning lotion, facial cleanser or mister to fix your make-up for the day.
Witch hazel floral water: it is the ally of sensitive skin prone to redness. Purifying, invigorating, astringent and soothing, it leaves the skin clean and gently unifies the complexion. Apply as a spray or on a cotton pad, morning and evening all over the face.
Helichrysum floral water: soothing, astringent, healing, toning and illuminating, it helps to calm redness and irritation of the epidermis by fighting inflammation. It contributes to cell regeneration and is particularly recommended for acne-prone skin to reduce scars and irregularities of the complexion. Use morning and evening, on a make-up removal disc or as a spray.
Geranium floral water: it has astringent and antiseptic properties. It is also purifying and therefore helps to regulate excess sebum in oily skin. It is also anti-inflammatory. It is applied as a tonic, on clean skin and before your usual day care.
Chamomile floral water: like lavender floral water, it is anti-inflammatory, invigorating and astringent. It brings immediate comfort to the skin. This floral water is applied morning and evening with a cotton pad to soothe the skin and prevent tightness.
Jasmine floral water: invigorating, soothing, but also... an aphrodisiac, jasmine floral water revitalizes all skin types and restores radiance to dull complexions. Its bewitching fragrance awakens the senses. It can also be sprayed on clothes to subtly perfume them. Apply to the skin with a cotton pad in the evening after removing make-up.
Rosemary floral water: it is the ally of combination to oily skin because it helps to rebalance and purify the skin. You can apply it with a soaked cotton pad to the T-zone (forehead, nose and chin) for a targeted treatment.
Peppermint floral water: say goodbye to a dull complexion and dilated pores! Refreshing, invigorating and astringent, it is particularly recommended for oily skin in need of purification and cleansing. Apply morning and evening, on waking and before bedtime, using a cotton pad.
Lemon floral water: thanks to its lightening properties, it is ideal to fight against pigmentation spots caused by the sun or skin ageing. Apply with a cotton pad, preferably in the evening.
Barley sprout floral water: Regenerating, emollient, fortifying or refreshing, this floral water brings many benefits to the skin. It restores elasticity and softness to the face and also has healing and antioxidant virtues. The plant is harvested in its immature form to make the hydrolate because the shoots are richer in trace elements and vitamins (B, C, E). Barley shoot floral water is mainly used in the organic cosmetics industry for the formulation of care products. It replaces any aqueous solution and provides additional benefits for the skin, especially when it replaces water. This floral water is not widely available in stores but you will frequently find it in the list of organic skincare ingredients, under the name "Hordeum vulgare water".
There are also floral waters of cistus, cinnamon, verbena, calendula, cedar, juniper, laurel, carrot, lemon balm..., each with the virtues of the plants that compose it and its own fragrance.
Lavender floral water (for its purifying action), chamomile floral water (for its light-catching reflections) and geranium floral water (for its soothing action) can also be sprayed on wet hair, just after shampooing, for an express hair care treatment! You can also add the equivalent of 2 or 3 spoonfuls of floral water to your bath to enjoy all its properties while you relax.
AKANE FLOWER AND FRUIT WATER, FOR A LUMINOUS AND RADIANT COMPLEXION!
Akane Flower and Fruit Water is a softening and refreshing mist, 100% natural and organic, based onorganic rose water, to be used without moderation to reveal the radiance of the complexion and smooth the features upon waking up. It is enriched with Apple and Leaf® Akane (composed of virgin Muscat Rose oil*, apple and Akane apple leaves) and organic Damask rose floral water.
Sanitizing, toning, refreshing, regenerating and astringent, organic rose water is suitable for all skin types. Sensitive and reactive skin will be soothed, oily skin will be rid of excess sebum, mature and tired skin will be revitalized. Its soft and sweet fragrance leaves a pleasant, fresh and flowery scent.
You can apply it all over your face. Just after cleansing and drying your skin gently, spray a cloud. Allow to dry or dab gently with a cotton pad. Your skin is ready to receive all the benefits of your organic moisturizer!
Our floral water-based treatments
Would you like personalized advice for your beauty routine?
- Call us for free at 06 47 59 30 24our beauty consultant answers all your questions
- Make your skin diagnosis directly online.

Article written by : Aline Foulet

Founder of the cosmetic brand Bio Akane Skincare

Akane Blog