Which essential oils for oily skin?
30/03/2020
There are a multitude of essential oils, each with very specific properties for the skin. They exert their healing power by stimulating the immune system, and accompany the body in the fight against many ailments. Some of these essential oils are renowned for their antiseptic action and are therefore an ally for oily and/or acne-prone skin.
But what exactly is an essential oil? Which essential oil should I use if my skin is oily? How do I apply it?
Here is a small overview of these miracle oils, preferably organic...
WHAT IS AN ESSENTIAL OIL?
Essential oils have been known for thousands of years throughout the world for their powerful therapeutic virtues. These natural plant extracts are obtained by various methods. Since the industrial revolution, the most widespread technique has been steam distillation, which produces an extremely pure essential oil: the plant material is placed in a still and then steam from a boiler is passed through it. This heat (less than 100° so as not to alter the properties of the plant or flower) causes the plant's cavities to open, a little like the pores of our skin after a hot shower. The essential oil they contain will be released, and directed into a cooling system in the form of a coil. It then liquefies and, being only partially soluble in water, separates naturally to float on the surface of the final liquid contained in the essence. The essential oil is thus collected, while the remaining distillation water, which contains the water-soluble molecules of the essential oil, constitutes the hydrolate of the plant used, in other words, its floral water.
Essential oils are useful to treat many ailments: relaxing, purifying, soothing, toning, antibacterial, aiding digestion, improving blood circulation, anti-inflammatory... they allow to act in a targeted way, where the body needs it. They penetrate the body and the blood circulation then carries them to the areas to be treated. They can be found on the market, sold pure, ready to be diffused or added to your care.
Many cosmetic brands also include essential oils in their formulas. Oily skin will find in them a natural product of great effectiveness to regulate excess sebum and say goodbye to blackheads, enlarged pores and a blurred complexion! That's why we advise you to incorporate it into your special oily skin beauty routine.
THE BEST ESSENTIAL OILS TO REGULATE OILY SKIN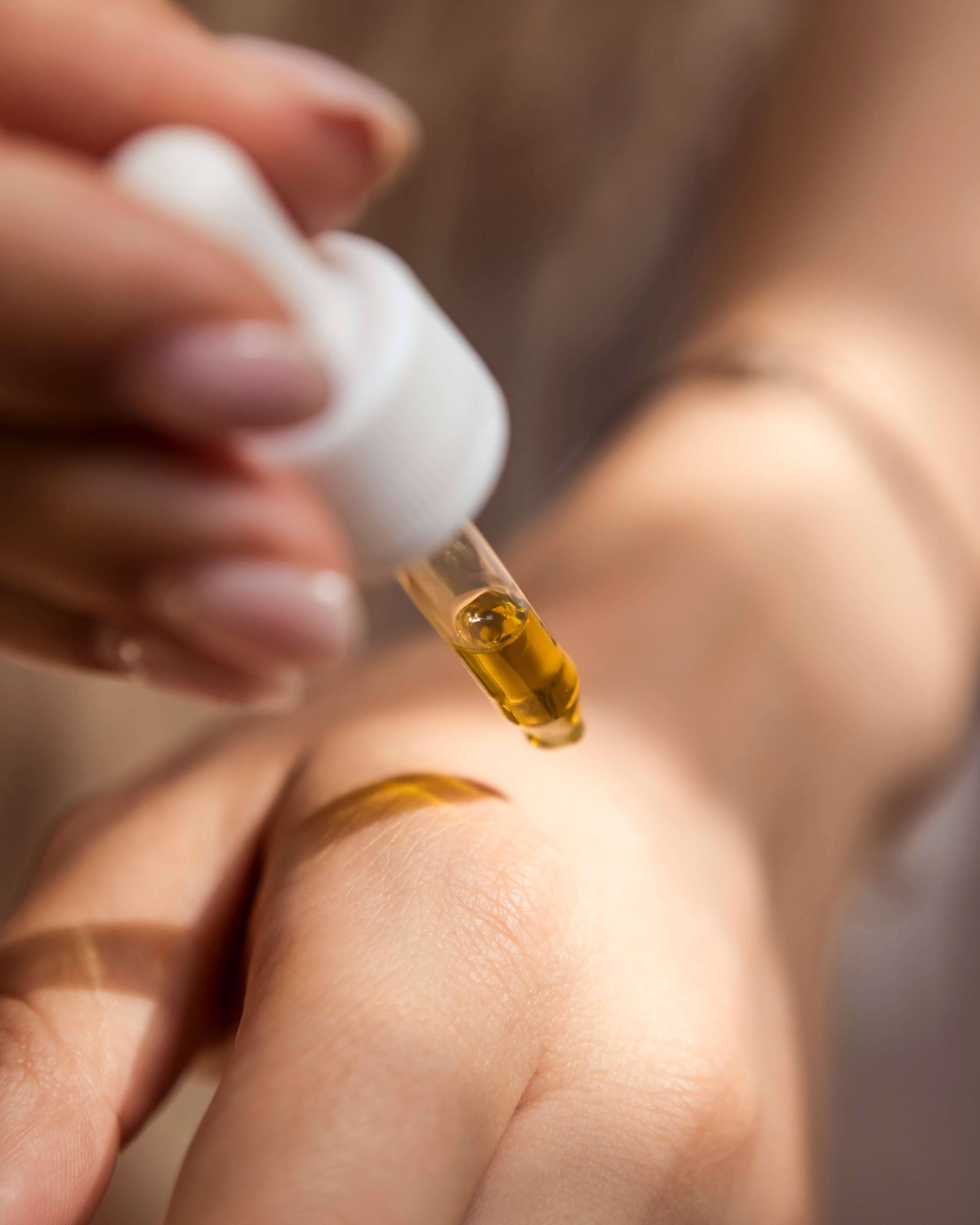 Angelica, basil, bergamot, chamomile, cinnamon, carrot, cedar, lemon, clove, black spruce, bulbous eucalyptus, fragonia, rose geranium, hydrangea, laurel, lavandin, magnolia, lemon balm, neroli, patchouli, parsley, petit grain bigarade, ravintsara, sandalwood, savory, clary sage, tea tree, vetiver, violet, ylang-ylang... There are more than 220 different kinds of essential oils! The field of action of aromatherapy is like the abundance of different essential oils existing today: immense.
Among all these essential oils, some are particularly suitable for the treatment of oily skin. This is the case of :
LEMON ESSENTIAL OIL
Its antiseptic, antibacterial and healing properties make it the ally of oily skin with acneic tendency. It fights effectively against unsightly pimples and rosacea, regulates sebum production and helps eliminate blackheads.
It is used diluted. Mix 2 drops of lemon essential oil with a teaspoon of jojobavegetable oil, then apply to the entire clean and dry face, instead of your night cream.
At Akane, we find lemon essential oil in our anti-dark spot mask, the Yellow Meringue Mask. This mask restores radiance to your skin and evens out your complexion.
BUY THE MERINGUE YELLOW MASK
ESSENTIAL OIL OF PETIT GRAIN BIGARADE
The essential oil of petit grain bigarade is known for its soothing and calming action. It is an ideal essential oil for oily skin because it also helps to regulate sebum production. Add 1 to 2 drops to your day cream and/or your night cream. You can also add it to jojoba vegetable oil. Thus diluted, it can be used daily!
ROSE GERANIUM ESSENTIAL OIL
The astringent properties of rose geranium make it an essential oil for oily skin. It helps to tighten dilated pores and dislodge blackheads that have already settled. The skin is purified, less prone to imperfections due to seborrheic overproduction. Dilute 1 drop of this essential oil in 4 drops of vegetable oil and apply a little of this mixture morning and evening to the area to be treated, until you observe an improvement. You can also add a few drops to your usual care for daily use.
LAVENDER ESSENTIAL OIL
Astringent, purifying, healing ... lavender essential oil is also an ally for oily skin. It participates in the general improvement of the skin's texture, tightens pores and helps to gradually reduce marks due to acne in particular. Add a drop of lavender essential oil to your day and/or night cream. It is also possible to make a purifying organic face mask: once a week, add 1 to 2 drops of this oil to a little floral water and clay powder (white, red or green depending on the sensitivity of your skin). Mix until you obtain a thick paste and apply to the face for a few minutes. Rinse with warm water.
YLANG-YLANG ESSENTIAL OIL
Oily skin will find in this essential oil an astringent, sebum-regulating treatment. It is also antiseptic, stimulating, toning and regenerating. However, it is considered a potentially irritating essential oil and its powerful scent is not suitable for everyone. Only use it widely diluted in a vegetable oil (about 20% essential oil to 80% vegetable oil).
TEA TREE ESSENTIAL OIL
This essential oil enables oily skin to fight effectively against all types of imperfections. It is antifungal, purifies the epidermis and provides an anti-inflammatory action. It is currently the most renowned for the care of skin with imperfections. It can be used on a daily basis. Add 1 to 2 drops in your day cream, in your clay masks or floral water. You can also use it undiluted, applied locally with a cotton bud or on the corner of a handkerchief.
PATCHOULI ESSENTIAL OIL
Not only is its fragrance bewitching, but it is also antibacterial, purifying, regenerating and healing. This essential oil helps oily skin to regain its balance over the course of the days and helps to unify the complexion. Like tea tree essential oil, it can be applied undiluted with a cotton pad until improved, but can also be diluted in your night cream, at a rate of 1 to 2 drops.
LEMON LITSEA ESSENTIAL OIL
Calming, antibacterial and antifungal, the essential oil of lemon litsea helps oily skin to purify itself and fight against acne. It is also known as exotic verbena essential oil. You can add up to 10% in a vegetable oil or add 1 to 2 drops in your daily care.
ROMAN CHAMOMILE ESSENTIAL OIL
Finally, Roman chamomile essential oil is one of the most effective for calming irritated or inflamed skin. Thanks to its anti-inflammatory and soothing properties, it relieves skinredness and regulates oily skin. It is therefore naturally recommended for people with excess sebum and acne, as it quickly treats small pimples and itching.
To use it, simply dilute 2 to 3 drops of Roman chamomile essential oil and 2 to 3 drops of true lavender essential oil in 20 drops of vegetable oil of jojoba or St. John's wort. Apply the mixture obtained in a thin layer on the irritated or acne-prone areas every evening for one to two weeks.
ESSENTIAL OILS, TO BE USED SPARINGLY
Because there is a multitude of essential oils and each one of them has very specific virtues, these small vials have a special place in our bathroom. Despite their countless therapeutic properties and their incredible beauty benefits, they should be used sparingly. Indeed, essential oils are extremely concentrated products which, when used improperly, can cause significant inconvenience: irritation, photosensitization, allergies can then arise and put a strain on the already fragile skin of the face. The use of some of these products is prohibited for pregnant women and infants (always ask before using them). But used according to the rules of the art, they will reveal all their benefits. Warning: with the exception of tea tree essential oil and patchouli essential oil, essential oils are never used pure, but always diluted.
Would you like personalized advice for your beauty routine?
- Call us for free at 06 47 59 30 24our beauty consultant answers all your questions
- Make your skin diagnosis directly online.

Article written by : Aline Foulet

Founder of the cosmetic brand Bio Akane Skincare

Akane Blog