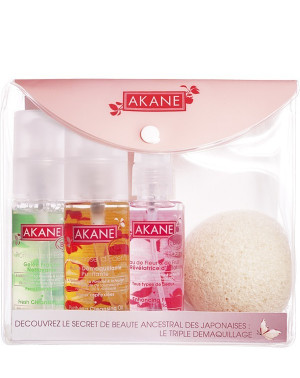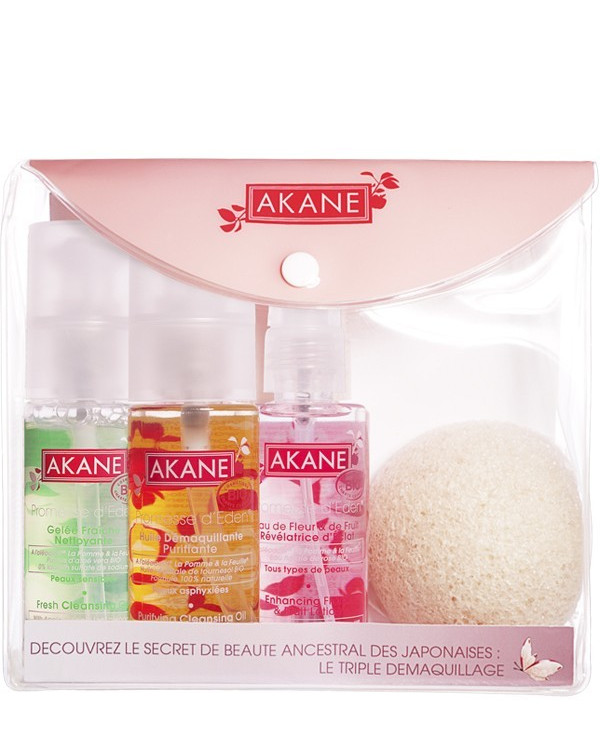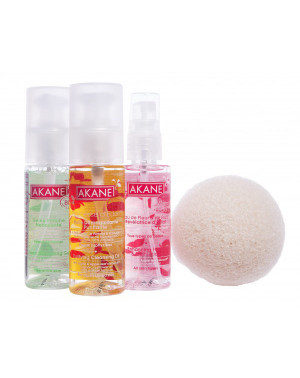 Make-up Removal Discovery Kit
Akane organic make-up removal kit
> When? Where? How?
In the morning and in the evening. For the morning, go directly to steps 2 and 3.
- Step 1: Apply 2 doses of Akane make-up remover oil to a dry face, using your fingertips. Massage to dissolve make-up on the eyes and lips. Moisten the Konjac sponge with lukewarm water until it swells with water. Massage the face with the sponge to remove oil and make-up residue. Rinse off the sponge.
- Step 2: Apply 2 drops of Fresh Cleansing Jelly to the Konjac Sponge. Massage the face with the sponge to create a lather, then rinse thoroughly with clear water. Wipe the face with a towel.
- Step 3: Akane Flower & Fruit Water. Close your eyes and spray the Akane Flower & Fruit Water on your face & décolleté. Then wipe gently with a towel. Do not rinse.
For a complete skincare ritual, adopt the ancestral beauty secret of Japanese women, layering.
Purifying Cleansing Oil 50ml: Perfectly removes make-up, regulates sebum production.
Fresh Cleansing Jelly 50ml: Gently cleanses and soothes sensitive skin.
Eau de Fleur & de Fruit 50ML : Removes limestone, hydate and reveals the radiance of the complexion.
White Konjac Sponge : Gently cleanses and exfoliates.