Dull complexion: restoring radiance to the skin
05/11/2019
A dull complexion makes you look tired, even when you get enough sleep. While a fresh, glowing complexion is a sign of good health. With the right reflexes and a good observation of your skin, it is possible to reverse the trend.
Say goodbye to your dull complexion, and hello to radiance!
What is dull skin?
A dull complexion is characterized by a lack of uniformity and is often greyish. Sometimes dark spots are added to certain parts of the face. These become darker and multiply under the effect of the sun's UV rays. All of this gives the impression of skin that has no radiance, no shades, or even looks ill.
What causes a dull, blurred complexion?
For city dwellers, pollution is one of the main enemies of skin radiance. Indeed, it contains small particles that are deposited on the surface of the skin and asphyxiate it. It becomes laden with toxins and free radicals, preventing nutrients from reaching it. This also leads to a proliferation of dead cells and a slowing down of blood circulation.
While pollution explains many cases of blurred skin tone, other causes may be at the origin, such as an unsuitable make-up routine. If it is not removed properly, the skin cannot breathe and will then reveal imperfections.
Similarly, poorly performed skin cleansing after make-up removal causes a dull complexion because dead cells are not eliminated. A lack of exfoliation prevents new skin.
In addition, a hormonal upset or too much sun exposure favours the appearance of brown spots on the face that give it an irregular appearance. Melanocytes (the cells that produce melanin) provide extra protection to the skin when it needs it. Produced in too great a quantity, they can give a blurred appearance because that's where brown spots show up. Finally, fatigue and stress are also factors that promote the appearance of a dull complexion. When you're anxious, blood circulation is affected because the blood vessels shrink and the skin can't get the nutrients it needs. Lack of sleep also leads to poor skin regeneration, a process that occurs at night.
How to restore radiance to the skin?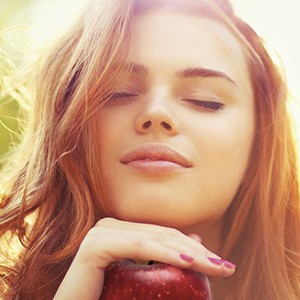 By adopting new habits and using the right products, it is possible to quickly regain radiant skin.
Cleanse your skin well to boost its radiance
Skin cleansing is the essential gesture to say goodbye to your dull complexion. The most effective method is double cleansing. It also has the advantage of being effective in preventing aging, because a well-cleansed skin is better oxygenated. It is then more apt to receive the care of your routine. It is therefore important to remove makeup and cleanse your skin every night to prepare it for nourishment and hydration.
The double cleansing begins with the application of a make-up remover oil that will remove all the greasy substances that have been deposited on the surface of the skin during the day, such as sebum, pollution particles and make-up. This without causing irritation.
By performing this operation every night, you will find that your dull complexion will gradually fade and pores will be tightened. In addition, our organic make-up remover oil is already a pre-hydration, as it contains good, beneficial and natural oils.
In order to refine the result on blurred complexion, the second step of the double cleansing consists in applying a gentle cleansing milk or gel. The first one moisturizes without aggression, ideal for skin prone to tightness. The soap-free gel provides a sensation of purity that delights all those looking for a fresh feeling.
Exfoliate the skin with fruit acid
Exfoliation is the best way to get rid of blotchy complexion and regain beautiful skin. This technique consists in eliminating dead cells from the epidermis by gentle and mechanical rubbing. This then optimizes the penetration of the active ingredients. This is the necessary condition for your skin to gain radiance and softness. A good exfoliant can contain fruit acids, for an immediate visible result, but be careful with sensitive skin. Indeed, fruit acid has been used for many decades to tighten the pores of the skin and unify the complexion, but it can be slightly aggressive. In addition to removing dead cells and treating imperfections, fruit acid-based exfoliation is also a good anti-wrinkle treatment since it promotes cell regeneration, for better elasticity and firmness of skin tissue. Indeed, fruit acid has astringent properties for the skin.
Protect your skin
Finally, it is advisable to apply an oil suitable for dull complexion, which will reinforce the skin's hydration and regulate it in case of shine. Vegetable oil is indeed rich in essential fatty acids and nutrients. The second advantage of vegetable oil is that it provides the skin with enough fat so that it no longer produces excessive sebum.
Good habits against blotchy skin
By adopting a good natural skincare routine, dull complexion will quickly improve. In the long term, adopt specific gestures by choosing a set of habits that are beneficial to your skin.
It is therefore important to protect your epidermis against pollution, the main cause of blotchy complexion. A perfectly clean, moisturized skin, protected from UV rays will defend itself better against the free radicals of pollution.
Adequate sleep will also help to avoid dull complexions. Night is the ideal time for your skin to regenerate. At bedtime, use a lotion that contains fruit acids for a perfect smoothing of the epidermis. If you have dry skin, you can add a cream rich in antioxidants. In the morning, you'll look better rested, with more radiant, youthful and plumped-up skin.
Finally, you should not forget that your diet has a direct influence on the condition of your skin. It is important to eat a diet rich in vitamins, especially A, C and E, and minerals such as zinc, sulphur and selenium. To have a good look, it is therefore recommended to favour orange or red fruits and vegetables, as they provide pro-vitamin A. Green leafy vegetables cleanse and sanitize the digestive system, for a useful detox on dull complexions. Seafood and seaweed provide zinc. As for foods containing good fats such as rapeseed and linseed oil, they are essential sources of Omega 3 and 6.
To say goodbye to a dull complexion, it's a new skin care routine to implement, but also a healthy lifestyle with a well-chosen diet and sport to oxygenate the tissues.
Would you like personalized advice for your beauty routine?
- Call us for free at 06 47 59 30 24our beauty consultant answers all your questions
- Make your skin diagnosis directly online.

Article written by : Aline Foulet

Founder of the cosmetic brand Bio Akane Skincare

Akane Blog