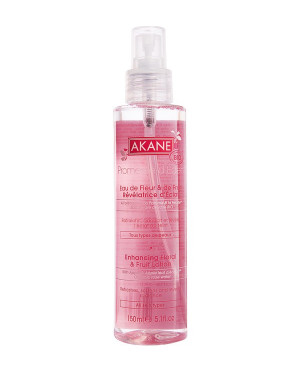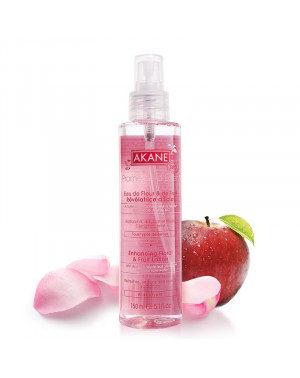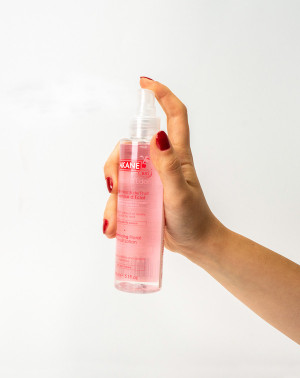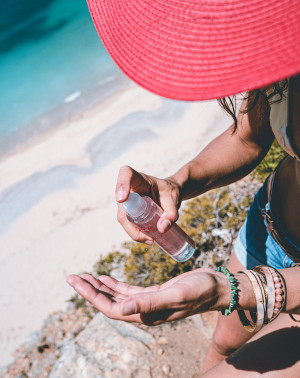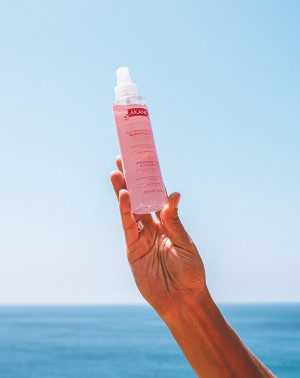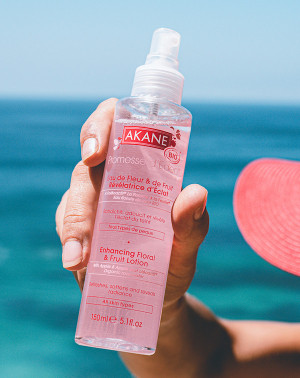 Certified Organic Flower and Fruit Water
L'Eau de Fleur et de Fruit BIO: a mist with organic rose water for a radiant complexion!
Akane Organic Flower and Fruit Water is a refreshing and softening mist ideal for smoothing the skin and revealing the radiance of the complexion. This 100% natural mist, enriched with organic rose floral water and the oleo-active ingredients Apple and Leaf® Akane, is suitable for all skin types and can be used every day, morning and evening.
Virtues of organic rose water and active ingredients of organic flower and fruit water.
Organic Flower and Fruit Water contains organic rose floral water and is enriched with Akane oil (virgin Muscat Rose oil*, Akane apple and apple leaves). Its 100% natural origin formula contains neither PEGs nor silicone, is phenoxyethanol-free and is alcohol-free.
Organic rose floral water: this is a hydrolate obtained by distillation of the Damascus rose flower. Cultivated from Morocco to Turkey, it is used in cosmetics for its cleansing, toning, refreshing, regenerating and astringent properties. The organic rose water used by Akane is suitable for both young and mature, dry, sensitive and reactive skin, as well as oily skin with acneic tendencies. Its delicate, sweet fragrance is a true olfactory delight. Rich in essential fatty acids and vitamin E, it helps maintain the hydrolipidic barrier of the epidermis, contributes to the maintenance of firm skin and fights effectively against free radicals.
La Pomme et la Feuille®: this unique active ingredient was created in our laboratories. La Pomme et la Feuille® is an alliance of two types of polyphenols (quercetin and sieboldine) with proven antioxidant powers. Rich in omega 3 and 6, essential fatty acids essential to reinforce the cutaneous barrier and fight against free radicals, it provides a global protective and regenerating action.
How to apply the Flower and Fruit Water?
Organic Flower and Fruit Water enriched with organic rose water is applied all over the face. After cleansing, wipe gently with a soft towel then spray a cloud of this water with its 1000 benefits. Close your eyes and let yourself be carried away by its delicious, light fragrance. You can dry or gently dab your skin with your towel or a cotton pad. Then follow your skincare routine and apply your usual serum or moisturizer.
L'Eau de Fleur et de Fruit BIO is the 3rd step of layering, an Asian skincare routine that consists in taking daily care of your skin in 6 key steps. Available in 150ml and in nomadic format (50 ml), it can be used daily as part of the Akane triple make-up removal ritual:
- application of Akane Organic Make-up Remover Oil
- cleansing with Akane Organic Fresh Jelly Face Cleanser and Konjac Sponge
- Vaporization of Akane Organic Flower and Fruit Water
Just after applying Akane Organic Flower and Fruit Water with Akane Organic Rose Water, you can use Bed & Breakfast Skin Care Oil for deeply nourished, regenerated skin and a radiant complexion as soon as you wake up!
| | |
| --- | --- |
| AQUA (WATER) | Demineralized water |
| ROSA DAMASCENA FLOWER WATER* | Damask Rose Floral Water* |
| GLYCERIN | Curator |
| ROSA RUBIGINOSA SEED OIL*, PYRUS MALUS (APPLE) FRUIT EXTRACT, PYRUS MALUS (APPLE) LEAF EXTRACT | Components of the Akane oleoactive (virgin oil of Muscat Rose*, Akane apples and apple leaves) |
| ARGININE | Active ingredient of natural origin |
| LACTIC ACID | Active ingredient of natural origin |
| SODIUM HYDROXIDE | pH adjuster |
| SODIUM LEVULINATE | Preservative of natural origin |
| SODIUM ANISATE | Preservative of natural origin |
| CITRIC ACID | Naturally occurring pH adjuster |
| PERFUME (FRAGRANCE) | Perfume of natural origin |
| SORBITOL | Solubilizer of natural origin |
| SUCROSE DILAURATE | Solubilizer of natural origin |
| SUCROSE LAURATE | Solubilizer of natural origin |
| SUCROSE TRILAURATE | Solubilizer of natural origin |
| CITRONELLOL | Active |
*ingredients from organic farming