How can you have beautiful skin?
28/11/2019
Because it is a reflection of who we are, we pay special attention to the skin on our face. Drawn features, dark circles around the eyes, dilated pores, small pimples and a dull complexion unfortunately often accompany us. Reflecting the passage of time and our way of life, the skin is an organ in its own right that must be taken care of day after day.
Discover how to cocoon your skin and preserve it on a daily basis!
 BEAUTIFUL SKIN THROUGH A HEALTHY AND BALANCED DIET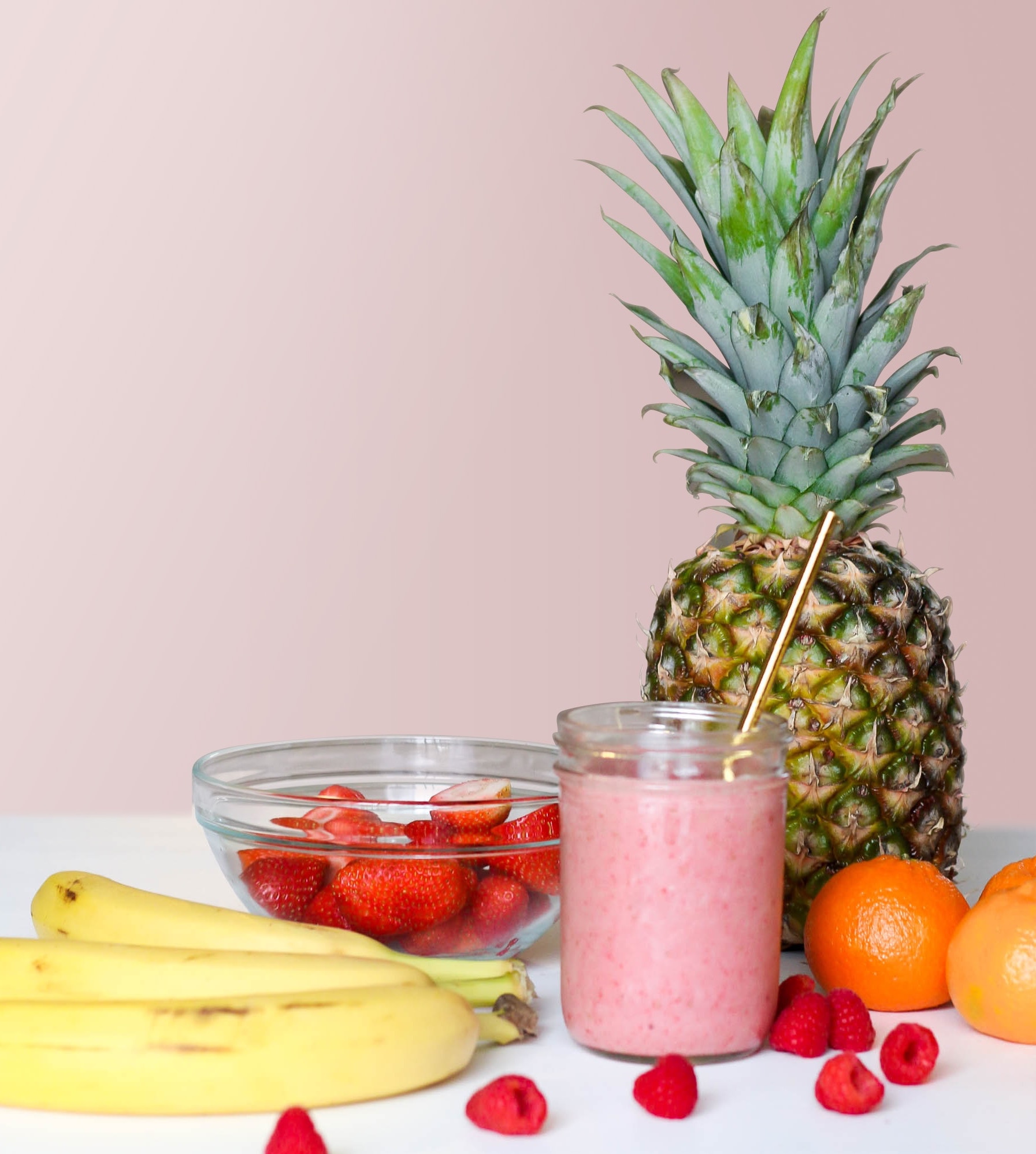 Whatever skin care products you decide to apply to your face and body, beautiful skin requires a healthy, balanced diet and a daily water intake of 1.5 litres per day to eliminate toxins. To begin with, you can consume anything... in moderation! No question of banishing from your menus all your sweet sins, but try as much as possible to keep a light hand with foods that are too rich in fatty acids and too sweet, which will only blur the complexion and alter the beauty of your skin. Delicatessen, pastries, sweets, but also milk, red meat and salt are thus products which, when absorbed in too large quantities, are harmful to the skin. Well beyond our aesthetic considerations, the skin's function is to protect our entire body by covering it completely. It acts as a shield against external aggressions. It must therefore be taken care of.
BEAUTIFUL SKIN THANKS TO THE LIFESTYLE
Beyond a healthy and balanced diet, the beauty of your skin also depends on your lifestyle. Anxiety, pollution, hormonal upheaval, cold, fatigue, lack of sunshine or, on the contrary, too much exposure to UV rays are all factors responsible for premature skin ageing, the appearance of spots and/or blotchy complexion... Here too, there is no question of becoming the most athletic and least party-going of all your friends. But betting on a bit of sport every week, drinking alcohol sparingly and having a good night's sleep is an excellent way to keep your skin looking radiant, rested and fresh all year round! Indeed, sport induces a better blood circulation and allows us to fight more effectively against free radicals, which are primarily responsible for the ageing of our cells. It also allows to evacuate the accumulated tensions, and thus to reduce stress, the sworn enemy of clean skins!
A SKIN CARE ROUTINE ADAPTED TO MY SKIN
WHAT GESTURES TO ADOPT TO HAVE A BEAUTIFUL SKIN?
Basic gestures
Beautiful skin cannot do without a skin care routine adapted to its type, especially facial skin. Young or mature skin, fair or dark skin, dry, combination or oily skin... there are as many different types of skin as there are men and women on the planet. It is therefore particularly important to pamper it with products that correspond to its nature. However, a few rules apply to everyone, whatever your profile:
- Cleanse your skin every morning with a mild cleanser. By hand or with a Konjac sponge, wash your face with a mild soap or cleansing gel, massaging in circular motions to activate blood circulation. Rinse with clear water and then gently wipe your face by dabbing with a soft towel. Once a week, you can proceed with an exfoliating treatment and a targeted mask.
- Then apply a tonic, a floral water adapted to your needs. It will awaken the complexion, purify the skin, tighten the pores and reduce blackheads. You can apply it every day, morning and evening.
- Nourish or moisturize with a cream or serum that matches your skin type. Anti-ageing, for oily or dry skin, anti-redness... give maximum preference to natural, organic products that are good for your skin.
- Finally, if you apply make-up, always remember to remove any residue before going to bed with a skin-friendly make-up remover. This step is essential to maintain a fresh and luminous complexion, a clear and homogeneous skin. In fact, make-up clogs the pores of the skin and irritates the epidermis.
Which products for which skin type?
Now that you've got the beauty routine you need for a baby's complexion in mind, it's time to ask yourself about the nature of your skin.
- My skin is dry: the famous "crocodile skin" needs to be particularly cocooned. Redness, irritation and tightness are part of your daily routine. One watchword: softness. Favour make-up remover oils, such asorganic make-up remover oil, which does not require the use of a cotton pad, and moisturise your skin with a particularly moisturising cream and nourishing masks.
- My skin is oily: forehead, nose and chin that shine, it's simple, you feel like a ball with facets ... You'll have to cleanse without aggression, matify but moisturize. Not so simple then! The best is a gentle cleanser that will not strip the skin (which, to defend itself, will produce even more sebum), a purifying hydrolat, a cleansing micellar water and a weekly clay mask!
- My skin is combination: rather dry cheeks, shiny T-zone... look no further: your skin is combination! Gently cleanse your face morning and evening. Every week, gently exfoliate your forehead, nose and chin. Opt for a day cream for combination skin and remember to remove make-up before going to bed. You are the ideal candidate for Multi-masking, a technique that consists of applying several masks to the face, targeting the needs of each area!
My skin is mature: dryness, wrinkles and fine lines, appearance of spots and sagging skin. If you are concerned by several of these aspects, your skin is or is beginning to become mature. In order to preserve it, choose micellar water or floral water to wash your face. Moisturize with a youthful UV-protective cream or an anti-blemish treatment, which you will apply after an anti-ageing serum. Also take care of the eye contour area with a lifting care, the skin is particularly fragile there.
How about we test the layering?
Straight from Asia, layering is a beauty ritual that consists of applying a precise list of cosmetics to the face, each treatment used preparing the skin to receive the next treatment. This routine is performed in a precise order:
- Make-up removal with oil (in the evening only): as crazy as it may sound, removing make-up from the face with an oily substance is ideal for removing all traces of make-up and dirt, while respecting the fragility of the skin. You can opt for an organic make-up remover oil with sunflower oil or jojoba oil for example. Both oils are non-comedogenic, which means they do not clog the pores of the skin. They simply cleanse the face gently, without causing the appearance of pimples and blackheads, while respecting the skin's hydrolipidic film.
- Cleaning with mild soap: using a konjac sponge, cleanse your face every morning and every evening with an organic skin cleanser!
- Lotion: to eliminate the limescale residues left by the rinsing water and to bring radiance to the complexion, the use of a tonic lotion or organic rose water is recommended. The skin benefits from all the benefits of the plants contained in the chosen treatment. The skin is clear and radiant.
- Eye contour: the skin around the eyes is extremely thin and fragile. The skin around the eyes is extremely thin and fragile and can show the first signs of aging prematurely with every blink of the eye. To delay the appearance of fine lines, an eyelift can smooth this sensitive area while correcting dark circles and illuminating the eyes!
- Serum: rich in beneficial active ingredients, the serum provides the skin with targeted action (anti-blemishes, anti-blemishes, anti-wrinkle, clarifying...). A real energy concentrate for the skin, it prepares it to receive the day or night cream, whose action is then multiplied tenfold.
- Day cream / night cream: every morning and every evening, don't overlook hydration. So apply an organic moisturizing cream every morning and a night cream every evening. Be sure to choose a skin care product adapted to your skin type in order to meet its specific needs: nourishing, matifying, balancing, soothing...
AKANE PRODUCTS FOR BEAUTIFUL SKIN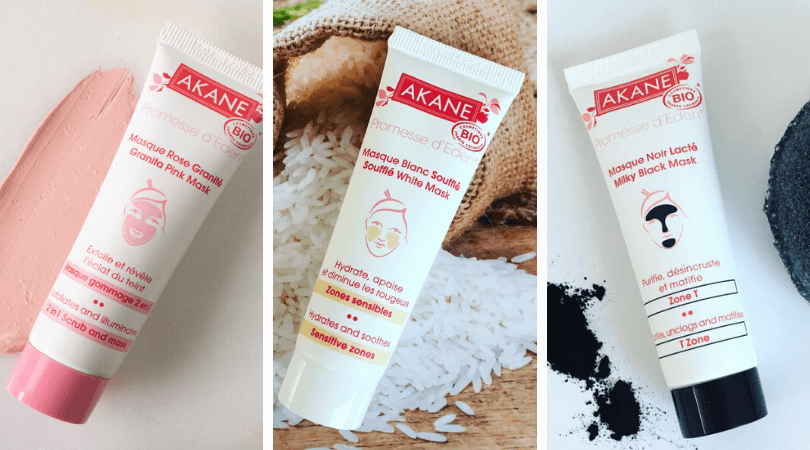 A new trend, also coming straight from Asia, makes it possible to provide the facial skin with targeted care by zone. Its name? Multi-masking! This technique, which Japanese women love, consists of applying different masks with different properties in one go. A kind of tailor-made care that allows the skin to be treated as effectively as possible. We offer a Multi-masking kit containing :
- a Pink Granite Mask, exfoliating, ideal to reveal the radiance of the complexion,
- a Milky Black Mask, cleansing and purifying, perfect for purifying the T-zone,
- a White Mask Soufflé, moisturizing and soothing, for the most sensitive parts of the face,
- a brush, in order to facilitate the application of the different masks.
Finally, don't forget that some areas of your skin, and more specifically your face, are much more sensitive than others. This is particularly the case around the eyes, where the skin is particularly thin. Do not hesitate to apply a dedicated serum every day. More concentrated than a cream, it helps to firm up this fragile area and fight against the effects of time!
At Akane, we have developed a unique active ingredient, Pomme & la Feuille®, which acts on skin aging. It is in Corrèze that we harvest this variety of apple tree, which is particularly rich in polyphenols and has proven antioxidant powers. We use its leaves, the flesh and skin of its fruit, which we add to muscat rose oil. The result? A unique oleo association that we add in each of our products, to serve the beauty of your skin.
Skin care ritual for beautiful skin
Would you like personalized advice for your beauty routine?
- Call us for free at 06 47 59 30 24our beauty consultant answers all your questions
- Make your skin diagnosis directly online.

Article written by : Aline Foulet

Founder of the cosmetic brand Bio Akane Skincare

Akane Blog