The benefits of honey on the skin
01/07/2020
Hmmm... honey... just thinking about it, our mouths are already watering! This delicious sweet substance, made by our precious little foraging bees, can be enjoyed in the kitchen as well as in the bathroom. Nicknamed the "nectar of the gods", honey has been used since ancient times for its countless properties: softening, emollient, nourishing, antibacterial and healing, it is just as effective when applied to the skin as it is when consumed in herbal teas to soothe sore throats and strengthen the immune system.
Composed of sugars (around 75% glucose and fructose depending on the variety), water, pollen, vitamins B and C, amino acids and trace elements (potassium, calcium, magnesium, phosphorus ...), honey is a real concentrate of benefits!
To preserve the youthfulness of the skin and display a luminous complexion, there's nothing like a face mask with honey, rich in vitamins and trace elements. Did you know that this ancestral beauty ritual was already used by Cleopatra, the last queen of ancient Egypt, in person?
Anti Tightness Mask
Bertille
"Very good product, nice texture and soothes the skin"
HONEY, A MOISTURIZING AND NOURISHING TREATMENT
When skin is dry and dehydrated, it tends to tighten, to have a "snakeskin" appearance, to itch... It is uncomfortable and prone to prematurely show the first signs of aging. Thanks to its high content of sugars, minerals, vitamin B (protective and healing) and trace elements, honey maintains the moisture level naturally present in the skin and boosts cell renewal. Goodbye skin dryness and rough touch, hello skin supple, soft and elastic!
By applying a honey mask to the face, you offer your skin a real bath of youth: honey will marry the skin by forming a protective, moisturizing and nourishing film, thus reinforcing its hydrolipidic film.
HONEY, A SOOTHING AND PROTECTIVE POWER
Made from the nectar of flowers or plants, honey is extremely rich in polyphenols, known to be powerful antioxidants. By protecting our cells from oxidation, it helps prevent skin aging and delay the first effects of aging! It also has anti-inflammatory and healing properties, and is therefore very useful in relieving irritation, sunburn (in combination with aloe vera jelly) and in accelerating the repair of damaged tissue.
HONEY, A POWERFUL HEALING, EFFECTIVE AGAINST ACNE
By optimizing cell regeneration, honey boosts the healing of skin marked by small imperfections, such as traces of mild to moderate acne. Its antibacterial properties help to purify the epidermis in depth, notably by absorbing excess sebum that clogs the pores of the skin. Emollient, it retains the moisture naturally present in the epidermis. It is a true miracle ingredient.
HOW TO USE HONEY IN THE BATHROOM?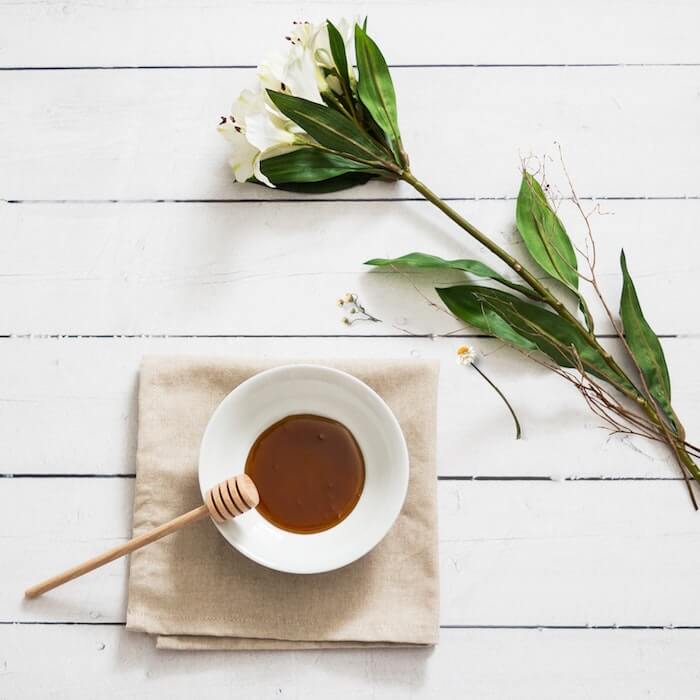 We often enjoy making our own cosmetics. Honey is one of those ingredients that we can easily find in our kitchen cupboards. Hop! Heading to the bathroom for some homemade treatments full of delicacy...
Soothing and repairing ointment for damaged skin
To do this, make a honey mask as follows: take one dose of honey for every two doses of aloe vera jelly. Mix until a homogeneous paste is obtained, then apply it as a poultice to the area concerned. Leave to act for about 20 minutes and then remove the excess with a cotton pad.
Nourishing face mask
To make your own honey face mask: mix a teaspoon of liquid honey, two teaspoons of olive oil and an egg yolk. Once the mixture is uniform, apply it all over the face and leave on for 15 minutes. Then rinse thoroughly with lukewarm water. Before any home-made mask, always do a test by applying a small part to your neck, especially in the case of atopic skin. This will show you how well your skin tolerates the ingredients used in its composition.
Purifying face mask
For a purifying honey face mask, mix two teaspoons of honey with two teaspoons of jojoba vegetable oil. Add two to three drops of fresh lemon. Apply the preparation to a clean, dry face and massage gently with fingertips in circular motions. Leave on for ten minutes and then rinse thoroughly with clean water.
Gentle Facial Scrub
Mix a tablespoon of liquid honey with a teaspoon of very fine sugar. Moisten your skin and then apply the mixture all over your face or focus on the T-zone (forehead, nose and chin) if your cheeks and times are rather dry. Massage lightly with fingertips in a circular motion, without rubbing. The aim is not to strip, but to gently cleanse and exfoliate. Then rinse thoroughly with lukewarm water and rinse one last time with fresh water to tighten the pores of the skin!
Body scrub
To make a honey-based body scrub, mix a tablespoon of liquid honey, a tablespoon of powdered sugar and a tablespoon of vegetable oil, such as argan, coconut or sweet almond oil. Once the paste is homogeneous, apply it to the parts of the body you wish to exfoliate and massage in slow, deep circular motions with the flat of your hand. Then rinse with clear water, dry your skin gently and apply a moisturizing cream to restore its hydrolipidic film.
If you prefer to use a ready-made honey face mask, we recommend the Akane orange honey mask . Enriched with organic honey, carrot macerate and organic apricot kernel oil, it nourishes and softens normal, dry or very dry skin! All with a clean composition, what more could you ask for?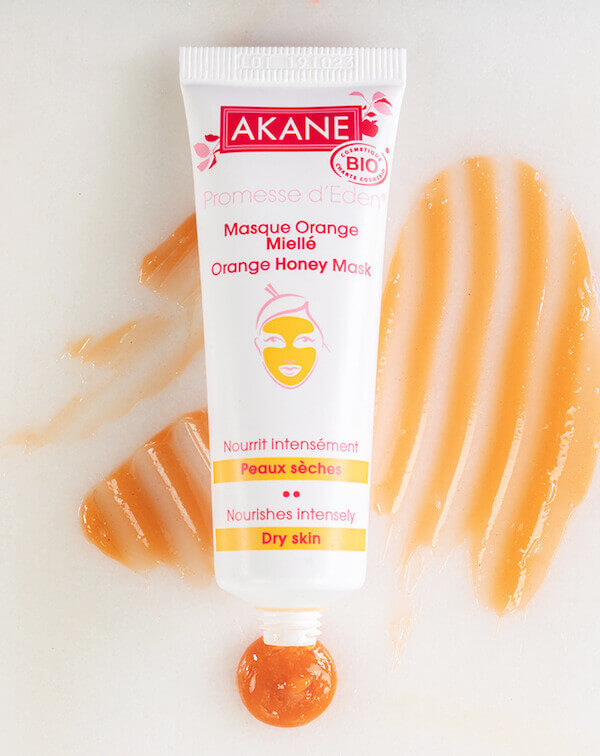 WHAT TYPE OF HONEY TO CHOOSE?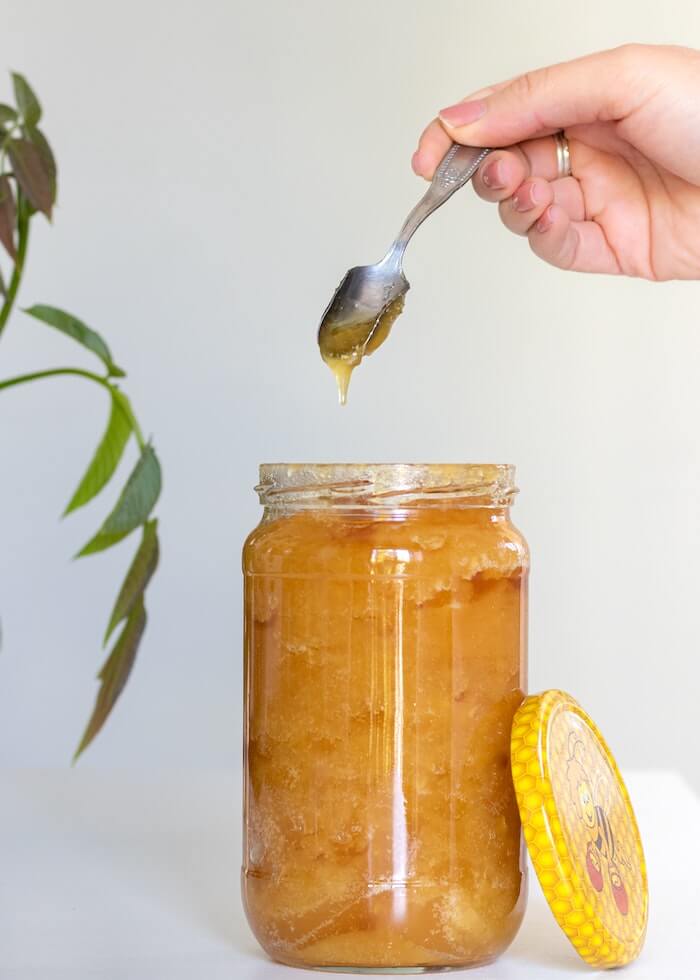 There is a wide choice of honeys with properties that are beneficial to the skin. Choose liquid honeys, which are easier to use and mix with other ingredients for your homemade cosmetics. Thyme, lavender, lime blossom, almond tree, thousand flowers... Although they all have a common base, each of these honeys is enriched with the benefits of the flowers or plants used in its composition.
Acacia honey is known for its soothing properties. It is recommended for very dry, sensitive and delicate skin.
Thyme honey is ideal for problem skin, thanks to its antibacterial, antiseptic and healing properties, just like chestnut honey, recommended for people with oily skin with acneic tendencies. The latter is one of the honeys richest in trace elements and its very effective healing power.
Manuka honey (a white flowering shrub growing wild in Australia and New Zealand) is also known for its healing properties and its ability to promote the healing of damaged tissue. Perfect for soothing a nasty sunburn!
Heather honey is particularly rich in trace elements. It is perfect for tired skin in need of toning up! Finally, always opt for a cold harvested honey, "potted by the beekeeper", from organic farming and mentioning a precise geographical and floral origin. You are thus assured of buying a quality honey, whose properties have been preserved!
Care based on natural ingredients
Would you like personalized advice for your beauty routine?
- Call us for free at 06 47 59 30 24our beauty consultant answers all your questions
- Make your skin diagnosis directly online.

Article written by : Aline Foulet

Founder of the cosmetic brand Bio Akane Skincare

Akane Blog