Layering, what is it and how does it work?
18/04/2023
WHAT'S LAYERING?
Coming from Japan, layering is a beauty ritual extremely widespread in Asia. In France, we are gradually discovering its many virtues: smooth, plumped up, luminous skin...
In Asian countries, beauty is synonymous with purity. The skin must be clear, luminous, soft and velvety. Over the centuries, women have adopted gestures and techniques that allow them to sublimate it and have a flawless complexion. To do this, they use several beauty products.
Layering consists of applying several successive layers of different care products, preferably organic, to the face after double cleansing the skin. In order for this layering technique of organic products to be effective, it is essential to know your skin well and to target your needs. To do this, start by cleansing your face with your usual cleansing product. Rinse with clear water and then wipe gently. For the next hour, do not apply any skin care products to your skin.
My skin is normal if: I don't feel any particular discomfort. My skin texture is rather regular, I don't suffer from acne, I don't have dilated pores, my skin doesn't tighten, doesn't redden... It still needs to be moisturized to be preserved.
My skin is dry if: my complexion is dull, my skin feels tight after cleansing, it reddens quickly, tends to peel quickly. It needs to be nourished.
My skin is dehydrated if: it shows marks like fine lines on the forehead and around the eyes, I also have a feeling of tightness. It needs to be moisturized.
My skin is oily if: my face is shiny, my pores are dilated, I see a few blackheads and I tend to have acne. It needs to be moisturized, not nourished!
My skin is mixed if: my skin is oily on the nose and chin. However, I feel discomfort in my cheeks and forehead, like a dry and tight feeling. The skin then needs to be nourished and moisturized according to the areas!
Still not sure about your skin type? Take our online skin diagnosis or call our free beauty consultant by phone at 06 03 58 54 99 to help you.

You are now ready for an efficient and targeted layering, adapted to your skin.
THE LAYERING: HOW DOES IT WORK?
Layering is a 6-step ritual that is passed down from generation to generation in Japan. It consists of superimposing organic products in a very precise order so that each new gesture neutralizes the inconvenience of the previous one and potentiates its benefits. This is where the name "Yarrow Care" comes from. In short, it is several treatments with unique virtues that will allow you to sublimate your skin.
With this traditional Japanese method, we offer ourselves a pure moment of well-being. And to succeed in this treatment, it is important to choose your products carefully. Indeed, you can't apply just any cream. You must also use them in the right order to fully enjoy their benefits.
HERE ARE THE 6 PRODUCTS TO BE USED IN ORDER:
The layering of organic products should be done like this:
1. A make-up remover oil
2. A soap or cleansing gel
3. A lotion
4. An eye contour
5. A serum
6. A day cream
THE 6 STEPS OF THE LAYERING:
Do you want to try this technique? Here are the steps to follow to master layering. We also tell you which products and accessories are suitable. So don't hesitate any longer and let yourself be seduced by this ritual!
The evening stages:
- Step 1: oil make-up removal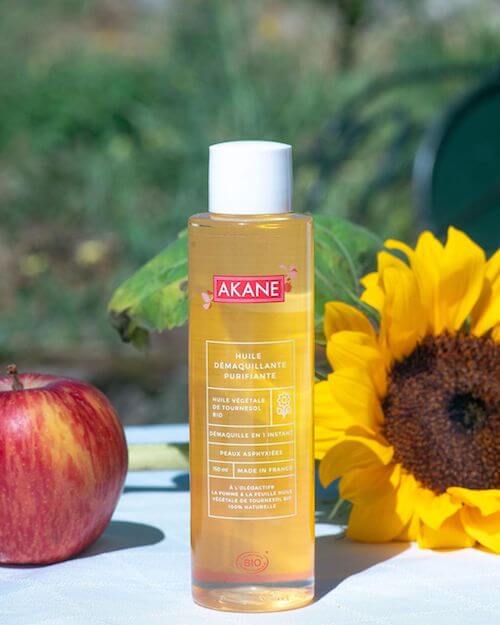 ---------------------------------------
⭐⭐⭐⭐⭐ 5/5
Dounia - "Incredible smell and very soft on the skin. Does not sting the eyes and effectively removes all make-up. Recyclable packaging in addition. Love it."
---------------------------------------
Still little known in France, the oil makes it possible to perfectly remove make-up from eyes, lips and complexion. Ultra effective, nothing resists it, not even waterproof makeup. Goodbye panda eyes. The skin remains supple and perfectly comfortable.
Akane Organic Purifying Make-up Remover Oil purifies and removes make-up, even waterproof make-up. It leaves the skin supple and soft without impurities.
Apply 2 or 3 doses in the palm of dry hands. Spread over fingers.
Apply to dry face and massage gently with fingertips to dissolve makeup. Rinse 2 or 3 times with lukewarm water.
Massage the moistened Konjac sponge with circular movements and rinse.
- Step 2: Cleaning with soap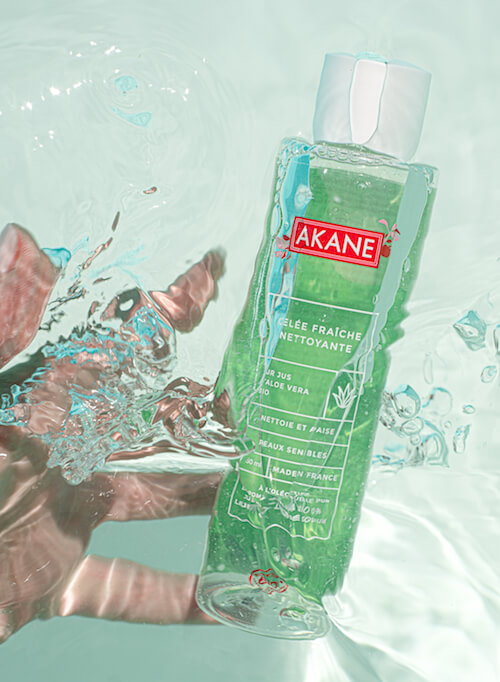 ---------------------------------------
⭐⭐⭐⭐⭐ 5/5
Élodie - "Very pleasant to apply. After a few days of use, the skin is visibly more beautiful and the skin texture improved."
---------------------------------------
After the make-up removal stage, the use of a soap or cleansing gel allows the skin to be perfectly cleansed and removes all encrusted impurities. Akane Organic Fresh Cleansing Gel perfectly cleanses the face. Enriched with pure ORGANIC aloe vera juice, it soothes sensitive skin with a sensation of freshness.
Apply 2 or 3 doses on the moistened Konjac sponge.
Sponge over damp face to create a lather by massaging in a circular motion. Avoid the eye area.
Rinse with clean water.
Morning & evening stages
- Step 3: The lotion
BUY THE FLOWER AND FRUIT WATER
---------------------------------------
⭐⭐⭐⭐⭐ 5/5
Yasmina - "Pure happiness sprayed on the face. Pleasant light scent. The skin doesn't tighten, it's soft."
---------------------------------------
It removes calcareous residues, soothes and reveals the radiance of the complexion. Akane Organic Flower and Fruit Water, enriched with Organic Rose Floral Water, eliminates limescale residues, refreshes, soothes and reveals the radiance of the complexion.
Using the spray, spray over the entire face and décolleté.
Gently wipe the face with a small clean towel.
- Step 4: Eye contour care
The area around the eyes is the most fragile, the skin is very thin and it is often there that the first signs of aging appear, such as fine lines and dark circles. In addition, it is the most sensitive area of the face. Both a serum and an eye contour product, Akane Fatigue Mark Removal Serum for Face and Eye Contour, smoothes fine lines, redefines the oval of the face, corrects dark circles and puffiness to illuminate the eyes. The skin is firmer, smoother and plumped up.
Apply 3 small hazelnut-sized amounts of Lift Serum to the eye contour area. Massage to penetrate.
Tip: Leave the Serum in the refrigerator for a decongestant effect.
- Step 5: the serum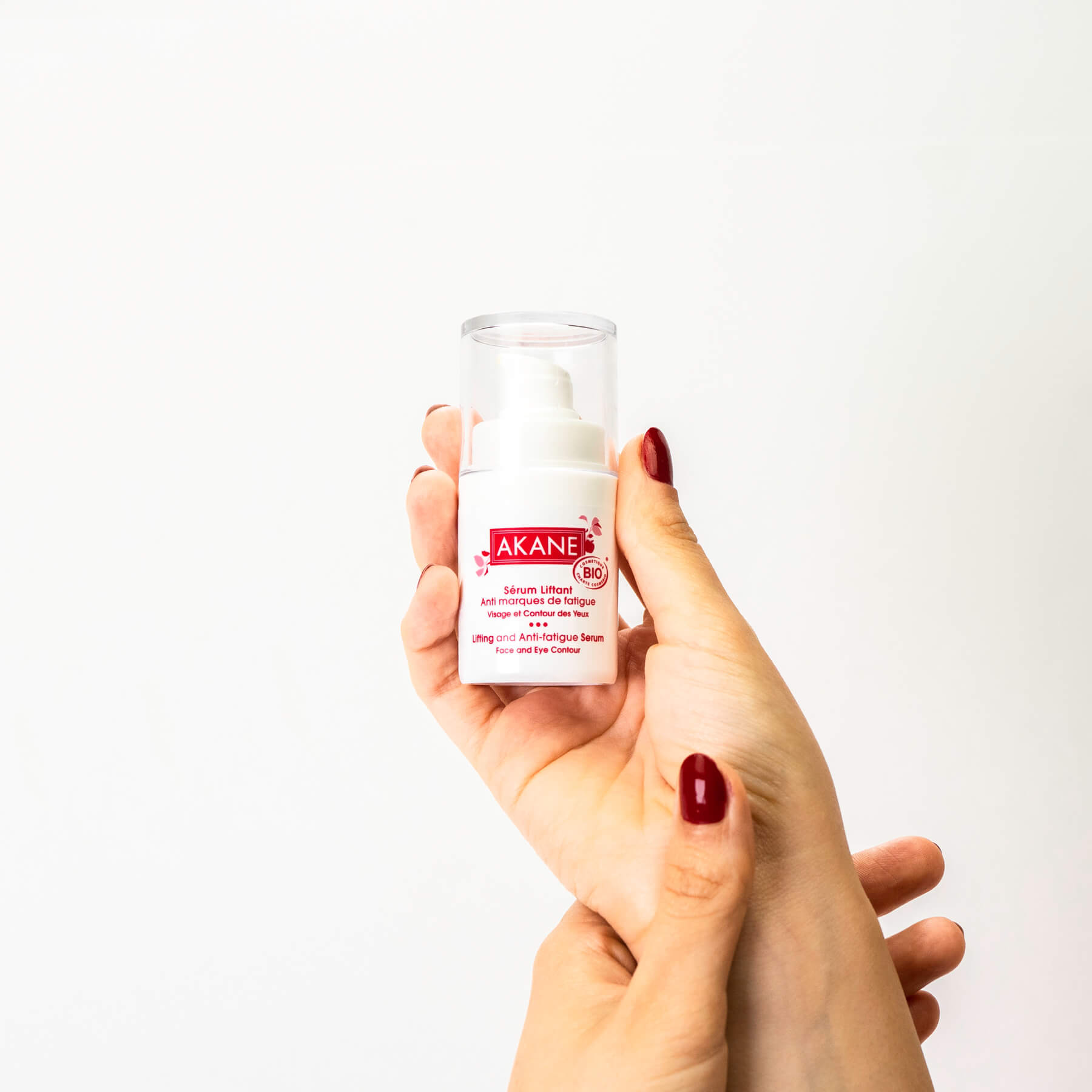 ---------------------------------------
⭐⭐⭐⭐⭐ 5/5
Constance - "Very satisfied, my skin is softer. The texture and the smell are top-notch."
---------------------------------------
It is a treatment that treats a specific problem and activates the benefits of the day cream. Enriched with pea peptide and black tea extract, the Akane Anti-fatigue Mark Lift Serum improves skin texture, firms and reveals the radiance of the complexion.
Apply 4 small drops of serum to the cheeks, chin and forehead. To make the product penetrate, tap with your fingertips the eye contour area and massage in circular motions.
We like : the new clever 2 in 1 gesture : Serum & eye area
For dry and/or mature skin, you can replace the Anti-fatigue mark Lifting Serum with the Bed & Breakfast Care Oil.
In the morning
- Step 6: the day cream
---------------------------------------
⭐⭐⭐⭐⭐ 5/5
Audrey - "I love the smell of this cream, it melts completely into the skin and leaves it feeling soft."
---------------------------------------
This step allows to moisturize and protect the skin on a daily basis and to provide specific care according to your age and/or the quality of your skin. Enriched with fern polysaccharides and extract of vigna aconitifolia, Akane Silky Anti-Wrinkle Cream immediately smoothes fine lines and prevents the appearance of wrinkles from day to day.
Depending on your skin type, you can replace the Silky Anti-Wrinkle Cream with the Moisturizing Melting C ream (normal skin), the Moisturizing Infusion Jelly (combination skin) or the Nourishing Muesli Cream (dry skin).
In 7 min for the evening ritual, and 5 min for the morning ritual, take care of your skin every day, learn to love and pamper it. Day after day, it will thank you and will be all the more beautiful!
THE AKANE LAYERING, A RITUAL THAT RESPECTS YOUR SKIN
Above all, know that the products you use must respect the skin of your face. That's why it's important to choose organic cosmetics that don't damage your skin and that don't contain harmful substances.
At Akane, we recommend several references from our ranges, which are made with natural ingredients and active ingredients. But if you don't have the time or the desire to do it every day, it doesn't matter at all. You can adopt Japanese layering once a week for example, or on weekends when you have more time for yourself. This should not become a constraint but remain a cocooning and well-being moment.
The words of Aline Foulet, Founder of the Akane brand:
"I've been doing layering for a little over two years and I couldn't do without it. Very quickly my skin was more luminous, more homogeneous, more plumped up. I like the idea of this routine developed with organic skincare products, without petrochemical ingredients. It's also a moment to yourself that you quickly get hooked on.
------------------------------------------------------------------------------------------
Would you like personalized advice for your beauty routine?
- Call us free of charge on 06 47 59 30 24, our beauty consultant Akane will be happy to answer all your questions.
- Make your skin diagnosis directly online to find out your skin's needs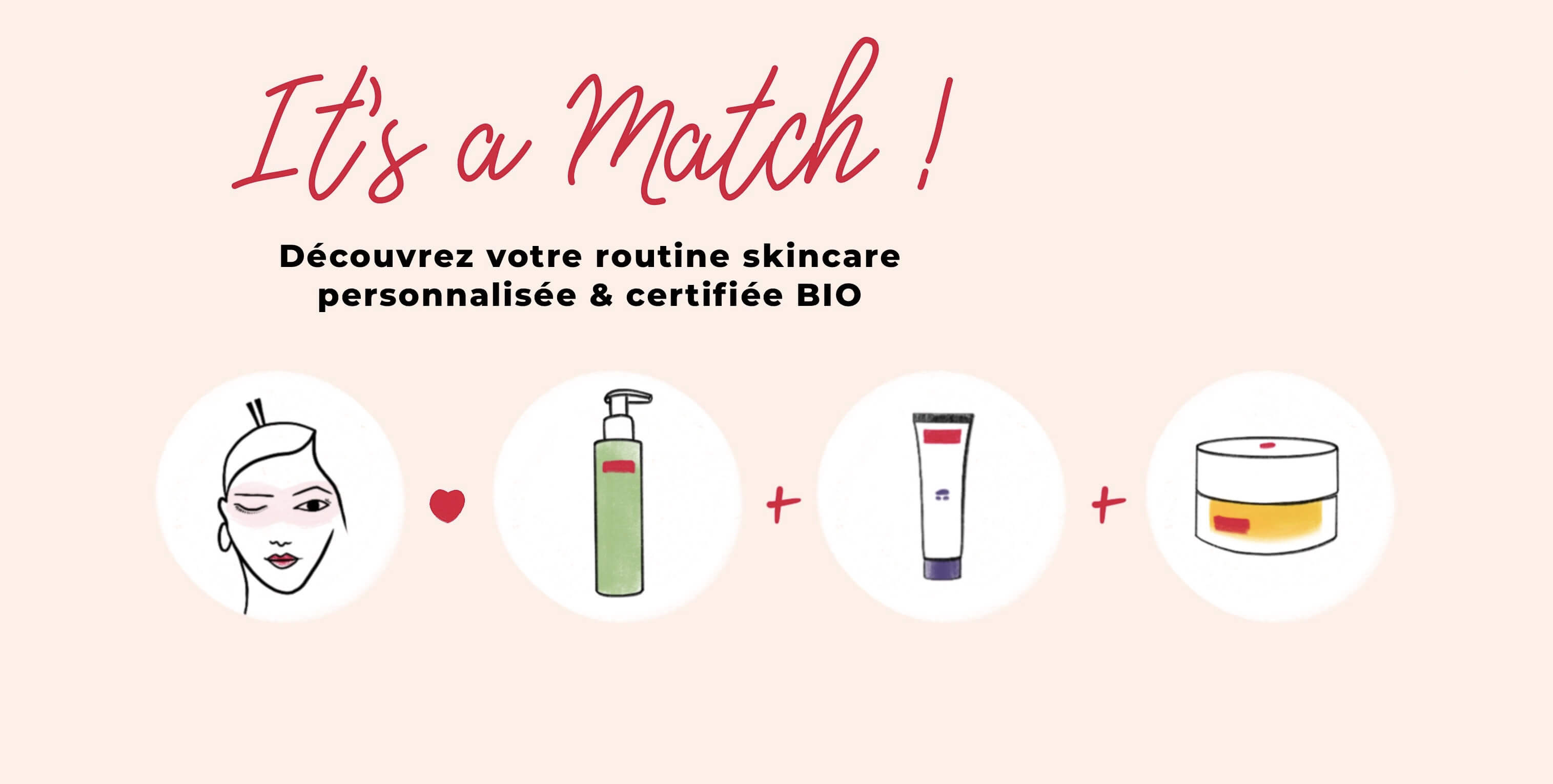 Layering: definition and instructions for use
What is layering?
Layering is a 6-step ritual that consists of applying several treatments that are superimposed on the skin after a double cleansing. Straight from Asia, this procedure is a huge success with Japanese and Korean women, who are adept at achieving perfect skin.
How to make a layering?
For a proper layering, it is imperative to carry out the 6 steps in order: application of a make-up remover oil, cleansing with soap or cleansing gel, then lotion, eye contour, serum and day cream, each product having to be adapted to your skin type.
Our Akane layering ritual
Would you like personalized advice for your beauty routine?
- Call us for free at 06 47 59 30 24our beauty consultant answers all your questions
- Make your skin diagnosis directly online.

Article written by : Aline Foulet

Founder of the cosmetic brand Bio Akane Skincare

Akane Blog