Couperose: natural remedies to relieve the skin
06/02/2021
Persistent redness on the face, small dilated blood vessels, burning sensations and discomfort... These different symptoms can be associated with couperose, a fairly common skin disease, especially in women between 30 and 50 years of age. Despite its benign health benefits, the skin is put to the test and the impacts can affect the morale of those who suffer from it. But what exactly are the causes of rosacea? What are the natural solutions to treat it?
WHAT IS ROSACEA?
Couperose, also defined as the vascular form of rosacea, is a facial skin condition. It manifests itself as patches of redness on the cheeks, nose, forehead and chin. Only the area around the eyes and mouth is spared. These patches appear as a result of the dilation of small blood vessels that return blood to the skin. These small vessels stripe the epidermis and are red or even purplish in colour. The skin of the face is generally dry, slightly swollen, very sensitive and reactive. Couperose is accompanied by tingling, irritation and burning sensations. Other symptoms, such as hot flashes, called "flushes", can occur following a moment of stress, ingestion of overly spicy food or alcohol consumption.
Couperose and rosacea are often interpreted as synonymous terms, but there is a small nuance. Rosacea is the global name for the dermatological disease that affects the blood vessels of the face and causes this redness. There are 4 subtypes of rosacea, including couperose. The other forms are: the papulopustular form (inflammatory flare-ups, presence of papules and pustules), the ocular form (conjunctivitis, dry eyes, eye irritation) and the hypertrophic form (red and puffy appearance of the nose).
WHAT ARE THE CAUSES?
The exact causes of rosacea are not clearly identified, but several factors seem to play a role in its appearance and aggravate the skin's reaction. It seems that a genetic predisposition influences its eruption. It frequently affects fair-skinned people. An abnormality in the hyperactivity of the blood vessels could also trigger this vascular form of rosacea. 
Aggravating factors include sudden changes in temperature, heat, cold, wind or exposure to the sun. These climatic conditions attack the skin, making it more fragile and causing blood vessels to dilate. Eating overly spicy food, hot drinks or alcohol can also cause redness to appear. The application of certain skin care products is even impossible because of the skin's increased sensitivity and intolerance to certain ingredients. Strong emotions such as stress, an adrenaline rush or intense physical exercise can also have an influence on rosacea. Some research suggests that the intake of corticosteroids may also coincide with the onset of couperose.
HOW TO TREAT ROSACEA NATURALLY?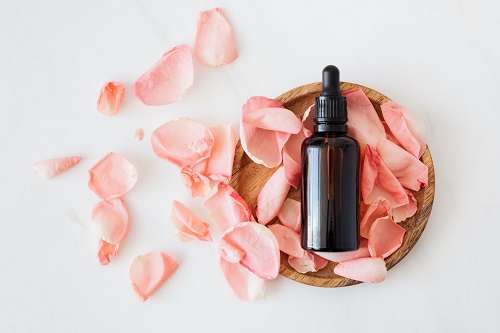 In order to best treat couperose, it is essential to have a medical follow-up. The treatment depends in particular on the various symptoms and the intensity of the disease. However, on a daily basis and for prevention, small natural remedies exist to prevent couperose, soothe redness and reduce inflammation of the skin.
THE POWER OF ESSENTIAL OILS
Chamomile essential oil
Chamomile essential oil is ideal for sensitive skin, prone to discomfort and redness. Rich in anti-inflammatory active ingredients, it soothes irritated skin, reduces burning sensations, decongests the skin and promotes the healing of lesions.
Immortal essential oil
Also called "helichrysum" by botanists, the essential oil of immortelle is the reference of natural care to fight against couperose. This oil is often used in case of small sores to prevent the appearance of haematomas. It is known to fluidify the blood circulation, for its astringent and anti-inflammatory virtues. It soothes redness, unifies the complexion and repairs the skin. Its small plus is that it prevents the appearance of wrinkles and regenerates cells.
Cistus essential oil
The essential oil of cistus reduces the redness of couperose skin. It stimulates the circulation of the vessels, reduces their bleeding and limits their dilation. Just like immortal essential oil, this oil is a powerful anti-aging thanks to its regenerating properties.
Be sure to follow the precautions for each essential oil (add them to an oily solution, use in the form of a hydrolat...).
THE BENEFITS OF VEGETABLE OILS
Hemp oil
Liked by sensitive and reactive skin, hemp oil is renowned for its softness. Thanks to its anti-inflammatory benefits, it calms chronic redness, repairs skin damaged by couperose and decongests. In addition, it is one of the non-comedogenic oils for the skin.
Calophyllum oil
Regenerating, anti-inflammatory, beneficial for blood circulation, healing ... Calophyllum oil is known for its effectiveness on couperose. It repairs damaged skin and relieves. It can be used in synergy with a few drops of cistus essential oil.
THE MAGIC OF ALOE VERA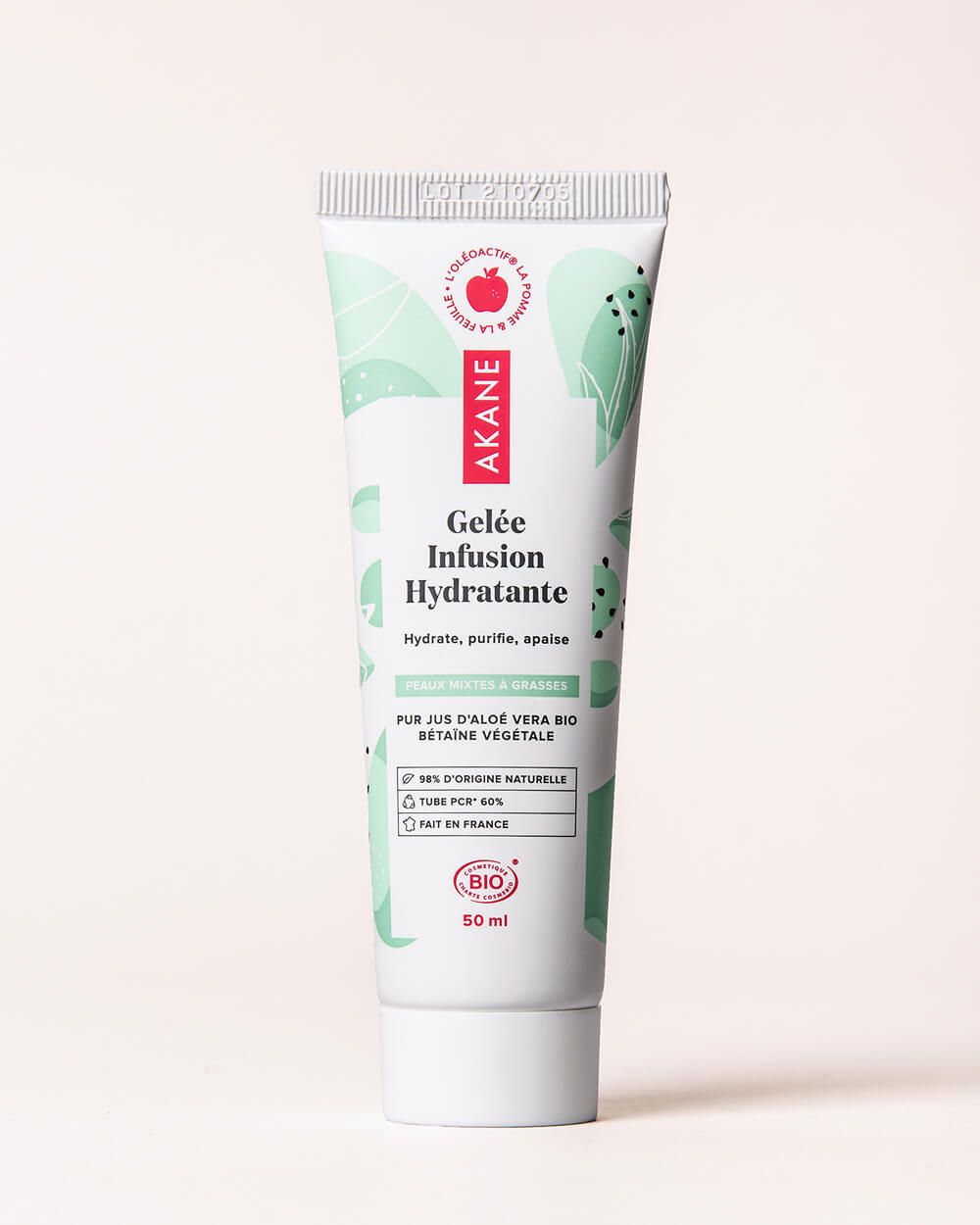 ---------------------------------------
Aloe vera is the remedy for many ailments and it is equally so for rosacea. Its anti-inflammatory properties relieve and soothe the skin. This plant alleviates burning, irritation and discomfort. It deeply moisturizes and respects sensitive skin. Choose an aloe vera gel with real juice rather than powder of the plant.
AN ADAPTED CARE ROUTINE
Make-up removal, cleansing and moisturising are the watchwords for taking care of your skin, whatever the problem you are facing. The only difference lies in the choice of products that must be in accordance with your skin type. In the case of rosacea, it is essential to choose very gentle products, preferably alcohol-free, that do not damage the skin.
Make-up removal: use organic make-up remover oils that gently dissolve makeup. The oils can be used with the finger and are easily rinsed off with warm water without leaving a greasy film. They avoid the use of cotton wool which, in the case of very fragile skin, can be aggressive to the skin due to rubbing movements. And what's more, it's 0 waste make-up!
Cleansing: To remove the last tiny, stubborn make-up residue, cleanse your skin with a cleansing gel suitable for sensitive skin. The composition of the product must be respectful of your skin, without aggressive ingredients.
Moisturization: Choose an organic moisturizing cream that is soft and natural and will protect your skin. Sweet almond oil is often recommended to take care of even the most fragile skin. The application of a face cream helps protect the epidermis from external aggressions, which can in particular be an aggravating factor in couperose.
FOODS THAT SOOTHE THE SKIN
Spicy food, hot drinks or alcohol are known to promote rosacea and trigger flushing. Conversely, the consumption of foods rich in antioxidants, vitamins C and E or with anti-inflammatory properties, brings more comfort and soothing to the skin, protects it from external aggressions and stimulates the production of collagen. This list includes fresh vegetables and fruits (especially red fruits), oily fish, almonds, nuts, eggs, avocados... Favour vegetables and fruits from organic farming to avoid pesticides and enjoy all their benefits.
A healthy and balanced diet is, in any case, the winning combo for healthy skin!
THE MAKE-UP OF A ROSACEA SKIN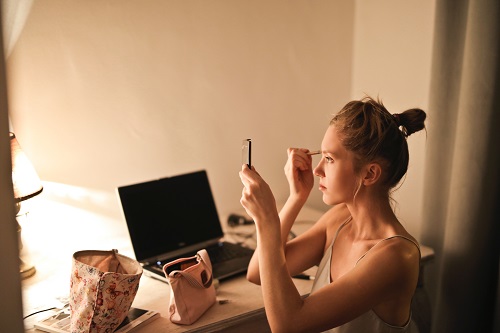 If you wish, you can camouflage your little redness with a little make-up, as long as the products respect your skin! Organic cosmetics contain fewer chemicals and are more respectful of sensitive skin.
For the complexion, favour fluid textures that are easy to work with to avoid unnecessary rubbing and gentle make-up removal. Long-wearing" products, compact powders and also waterproof cosmetics are to be avoided as they tend to dry out the skin and risk inflaming it. BB cre ams and CC creams are good alternatives. They have a light but sufficient coverage to camouflage redness. To further neutralize these flashes, it is also possible to apply a green foundation or concealer.
Would you like personalized advice for your beauty routine?
- Call us for free at 06 47 59 30 24our beauty consultant answers all your questions
- Make your skin diagnosis directly online.

Article written by : Aline Foulet

Founder of the cosmetic brand Bio Akane Skincare

Akane Blog