Our cream refills are available!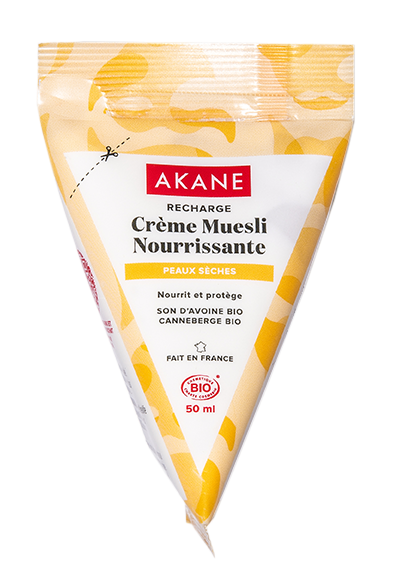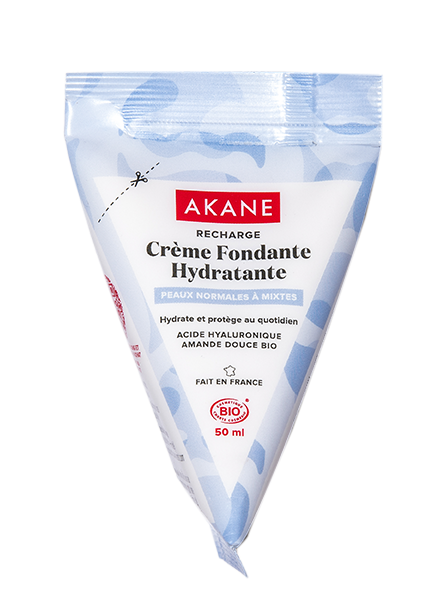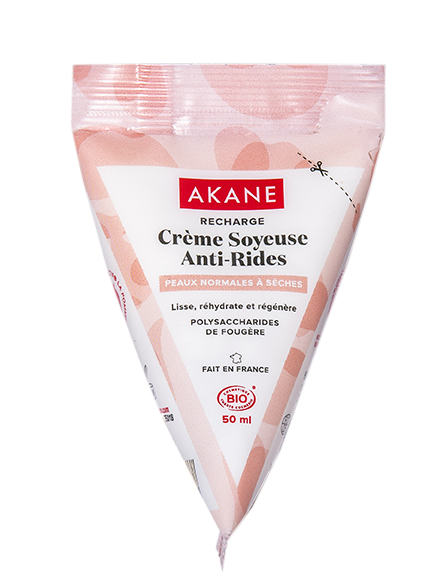 Discover our new cream refills, in the form of a berlingot, to refill your biodegradable jar. These refills are associated with the moisturizing melting cream, the nourishing muesli cream and the anti-wrinkle silky cream. In order to recycle the berlingot packaging, we offer you an eco-responsible solution that participates in the circular economy: send us your empty berlingots by post and receive a €5 voucher in return! Consult the conditions of sending below.
Our approach
Since the beginning of the brand, we have been committed to offering you skin care formulas that are respectful of your skin and the environment, and that are made with the best natural ingredients. Concerning our packaging, we have set up a system of refill cream, in the form of a small jar, to limit the production of plastic packaging.
Since December 2020, we have gone even further in our approach by completely eliminating our plastic jars (for the 50 ml cream formats), replacing them with a new 100% biodegradable and natural packaging , made from wood industry scraps and plant-based binders.
In order to avoid you buying the whole jar of cream once the product is finished, and to allow you to easily reuse your biodegradable jar, we have chosen to keep the refill system, by adapting its packaging. An ecological solution (less heavy packaging) and economical! The refills are about 25% cheaper than the original jar.
However, the materials used and available for refill packaging are mostly plastic and are not always recyclable. In order to limit the production of plastic as much as possible, we have chosen to produce our refills in the form of berlingot. Lighter, smaller, thinner than the previous one, this new format allows to limit the use of plastic and to reduce the carbon impact during transport. Made of several layers of PE and PET, our cartons are unfortunately not taken care of by the classic recycling channels, like most of the refills today, but other organizations have the solution... It is now possible to recycle waste that is difficult to recycle, if we give ourselves the means!
Let's recycle the berlingots together!
We have chosen to use Terracycle 's Zero Waste™ Box to recycle the berlingots. We suggest you send us back your empty berlingots by post, to the following address: Akane, 51 rue Lepic 75018 Paris. Please also give us your e-mail address (simply written on a paper). We will send you an e-mail as soon as we receive it with a voucher of 5 € + postal charges (1,28 €) to be used on our site. Once we have received the packaging, we will drop it into the Zero Waste™ Box, which we will then ship to Terracycle so that the waste can be sorted, pelletized and turned into new products!
Terracycle is a committed company that collects and treats waste that is difficult to recycle in order to give it a second life. No incineration, no burying in the ground. The waste is recycled and integrated into the circular economy. We continue to look for ever more innovative solutions to reduce our impact on nature as much as possible. To date, the recycling of berlingots with Terracycle's Zero Waste™ Box happens to be the best possible alternative to continue to offer you our creams at an attractive price, while limiting our impact regarding plastic waste pollution to the maximum.
Shipping conditions
- Put the empty bottle(s) in an envelope
- Also slip in a piece of paper with your email address written on it
- Mail it to the following address Akane 51 rue Lepic 75018 Paris
Once we have received the mail, we will contact you by e-mail to proceed with the reimbursement of the shipping costs and to join your 5 € voucher, to be used on our website.