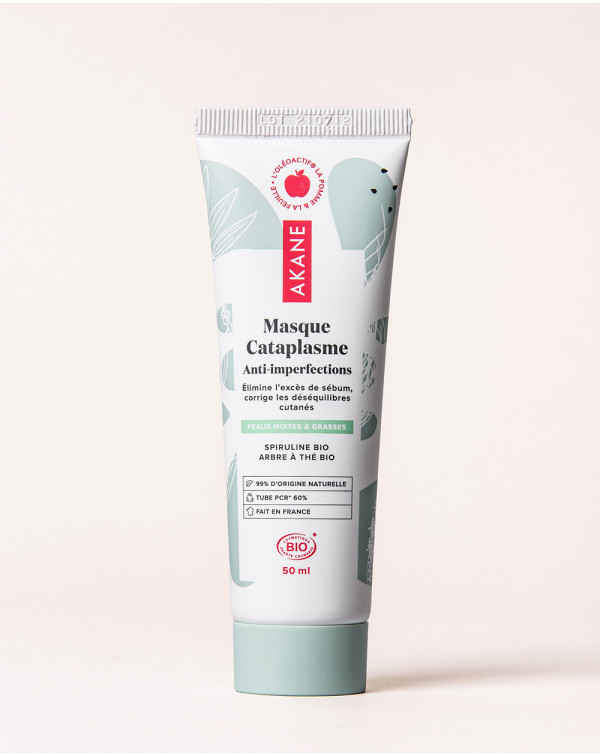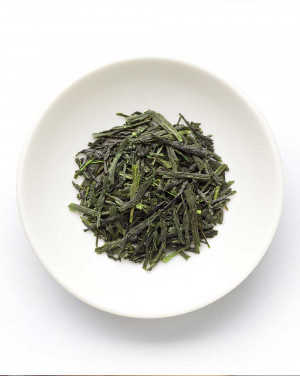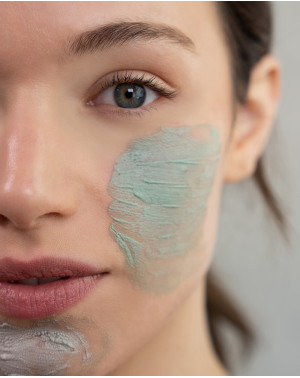 Anti-Imperfections Cataplasm Mask
Green clay mask for the face
Anti-imperfection Cataplasm Mask 50ML
This green clay mask is ideal to fight against acne. It is suitable for oily and mixed to oily skin. The Akane Anti-imperfections Cataplasm Mask acts like a blotter, with a record setting time of 5 minutes. Its capacity to regulate seborrheic production is so effective that the skin is purified, clean and matified in a few moments. It contains green clay, long known for its detoxifying properties and its ability to absorb excess sebum. This clay is a great ally in the fight against oily skin, acne problems and to tighten the pores of the skin. This beauty mask combines all the benefits of green clay to help mixed to oily skin regain balance and health!
Our green clay-based mask is also enriched with organic spirulina, a micro-algae particularly rich in proteins, iron, beta-carotene, vitamins, minerals and trace elements. Firmness and elasticity are the order of the day, skin is smooth and plumped up!
Contains tea tree essential oil, the essential oil essential for the care of skin prone to imperfections. It is thus ideal for oily and combination to oily skins since it regulates excess sebum and prevents the appearance of acne thanks to the action of the tea tree which is part of its composition.
This mask with green clay and spirulina has a thick texture, like a traditional herbal cataplasm, and absorbs excess sebum while preserving the skin's hydrolipidic film. It can be applied alone, in duo or trio, as a special multi-masking routine. Green clay is the main component of this mask. It is a soft rock that has multiple properties thanks to the minerals and trace elements it contains. Green clay is known for its medicinal and anti-inflammatory properties. Applied as a poultice, green clay is purifying and toning for the skin as it absorbs and regulates excess sebum. Day after day, you will find a clean and purified complexion.
Our green clay and spirulina mask also contains organic peppermint floral water which accompanies the green clay thanks to its sebum-regulating and astringent action. It unclogs the pores deep down. It is also a very good antibacterial because it is also well known for cleansing problem skin (acne and sebum in particular).
Our Cataplasm Mask is a purifying mask, and is the ideal ally to make up for, for example, food excesses that are felt on your skin. Perfect after the holiday season!
How do I apply the green clay face mask?
Apply the green clay mask all over the face or more specifically on the greasiest areas of your face (often the famous T-zone, forehead/nose/chin, where blackheads tend to settle).
The application time for the green clay mask is 5 minutes, twice a week. Rinse off with warm water. Use twice a week, alone or as part of our Multi-masking routine.
What active ingredients does the green clay face mask contain?
La Pomme & la Feuille®: this active ingredient contains Akane apple, a fruit that concentrates an exceptional quantity of polyphenols with recognised antioxidant powers, to which we have added muscat rose oil. Our laboratories have thus given birth to a unique anti-ageing molecule, 7 times more powerful than pure vitamin E. Thanks to the 100% natural oleo-association of the fruits and leaves of the Akane apple tree and this oil with its anti-free radical, regenerating and nourishing power, the skin looks younger.
ORGANIC Spirulina: better known as a food supplement, spirulina is a microalgae with detoxifying properties that helps to absorb impurities and cleanse the skin in depth while soothing and moisturizing it. It improves firmness and elasticity while being very effective in fighting acne. It also has the virtues of nourishing it while tightening the pores.
Green clay: a material particularly rich in minerals, clay is a particularly absorbent volcanic rock. Green clay specifically is the most used in the cosmetic field for its high mineral content. It regulates excess sebum and the appearance of imperfections linked to oily skin, for a clearer complexion, day after day.
Organic peppermint floral water: Known for its sebum-regulating properties, it revives the complexion and tones the skin thanks to its astringent properties. It therefore helps to reduce the appearance of blackheads. And because it activates skin microcirculation, it also helps to fight against unsightly redness!
Tea tree essential oil: this oil is known for its great antiseptic virtues. It purifies and reduces imperfections. It also has fungicidal, antibacterial and disinfectant properties.
Which products should be combined with the green clay face mask?

> Multi-masking tip
Dilated pores? Blemishes? T-zone more oily than the rest of the face? Use the Green Mask Cataplasm in combination with the Purifying Black Scrub enriched with activated vegetable charcoal and olive kernel powder. The combination of this scrub + mask guarantees a global action to treat your skin concerns. The purifying milk scrub will unclog pores, while the Green Clay Cataplasm Mask will treat excess sebum and purify your skin. No more dull and uneven complexion, hello new skin!

> The little extra
Discover our multimasking routine. This trend from Asia consists of applying different masks to different areas of the face according to each person's specific needs. Indeed, our skin does not necessarily face the same problems in general. Oily T-zone but rather dry cheeks... Perfect T-zone but acne on the cheeks... Sensitive skin that tends to have redness but dilated pores on the sides of the nose... Recommended by dermatologists, this ritual allows us to provide the skin with the right and precise care, a targeted action for a personalized beauty moment!
AQUA (WATER)
Demineralized water
MENTHA PIPERITA WATER
Peppermint Floral Water*
HELIANTHUS ANNUUS HYBRID OIL*
Sunflower Oil*
GLYCERYL STEARATE
Consistency factor of natural origin
GLYCERYL STEARATE CITRATE
Emulsifier of natural origin
GLYCERIN
Humectant of natural origin
ILLITE
Green Clay
ZEA MAYS STARCH
Cornstarch*
BENZYL ALCOHOL
Curator
SALICYLIC ACID
Active ingredient of natural origin
PARFUM
Perfume of natural origin
PYRUS MALUS (APPLE) FRUIT EXTRACT, PYRUS MALUS (APPLE) LEAF EXTRACT, ROSA RUBIGINOSA SEED OIL*
Components of the Akane oleoactive (virgin oil of Muscat Rose*, Akane apples and apple leaves)
CI 77288
Mineral pigment
SPIRULINA PLATENSIS POWDER*
Spirulina*
TOCOPHEROL
Anti oxidant
XANTHAN GUM
Gelling agent of natural origin

CI 77007
Mineral pigment
MELALEUCA ALTERNIFOLIA LEAF OIL*
Tea tree essential oil*
SODIUM PHYTATE,
SORBIC ACID,
ALCOHOL
pH adjuster, stabilizer
SILICA
Texture agent
*ingredients from organic farming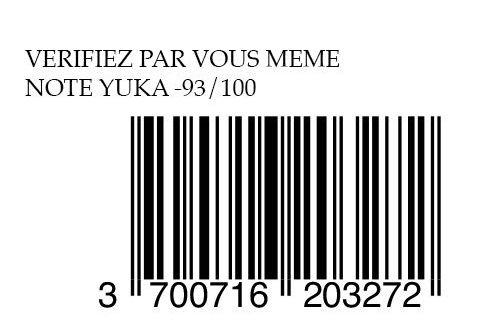 To please or to please oneself