Routine for oily skin
27/05/2019
WHY I HAVE OILY FACIAL SKIN...
THE CAUSES OF OILY SKIN
Oily skin is a skin often misunderstood and weakened by aggressive care. It is characterized by an excessive production of sebum, which causes shine especially on the T-zone (forehead, nose and chin). Oily skin will tend to lack radiance and will be accompanied by small imperfections such as small pimples and dilated pores. It is rather during the day or in the evening that this phenomenon manifests itself. But rest assured, with a good routine, the right products and a touch of perseverance, excess sebum will be under control!
There are different causes for having oily skin: climate change, stress, hormonal imbalances, external aggressions...
Discover our advice for your skin type: mask, clay, scrub, cream, aloe vera... we tell you all about the ideal products and ingredients!
THE DIFFERENT TYPES OF OILY SKIN
FAT SKIN
The skin is characterized by the whole face which is oily and shiny. In this case, the pores of the skin are very clearly dilated and visible. The shiny appearance of the skin is noticeable over the entire face. The face lacks overall shine and the skin is thicker than other skin types. 
When we have oily skin, we are prone to blackheads and blemishes, it is the famous T-zone that is generally the most affected. You will therefore understand that our skin is more prone to acne in this type of situation.
THE MIXED SKIN
Combination skin is a skin type that is similar to oily skin. It is said to be combination because it is the T-zone that is most affected by shine and blemishes. The pores in this area are more dilated and are more noticeable. The T-zone can be large or fine, it varies according to each person. Whether you have oily skin or combination skin, it's a question of adopting the right beauty gestures and, above all, the right products!
HOW TO TREAT OILY SKIN?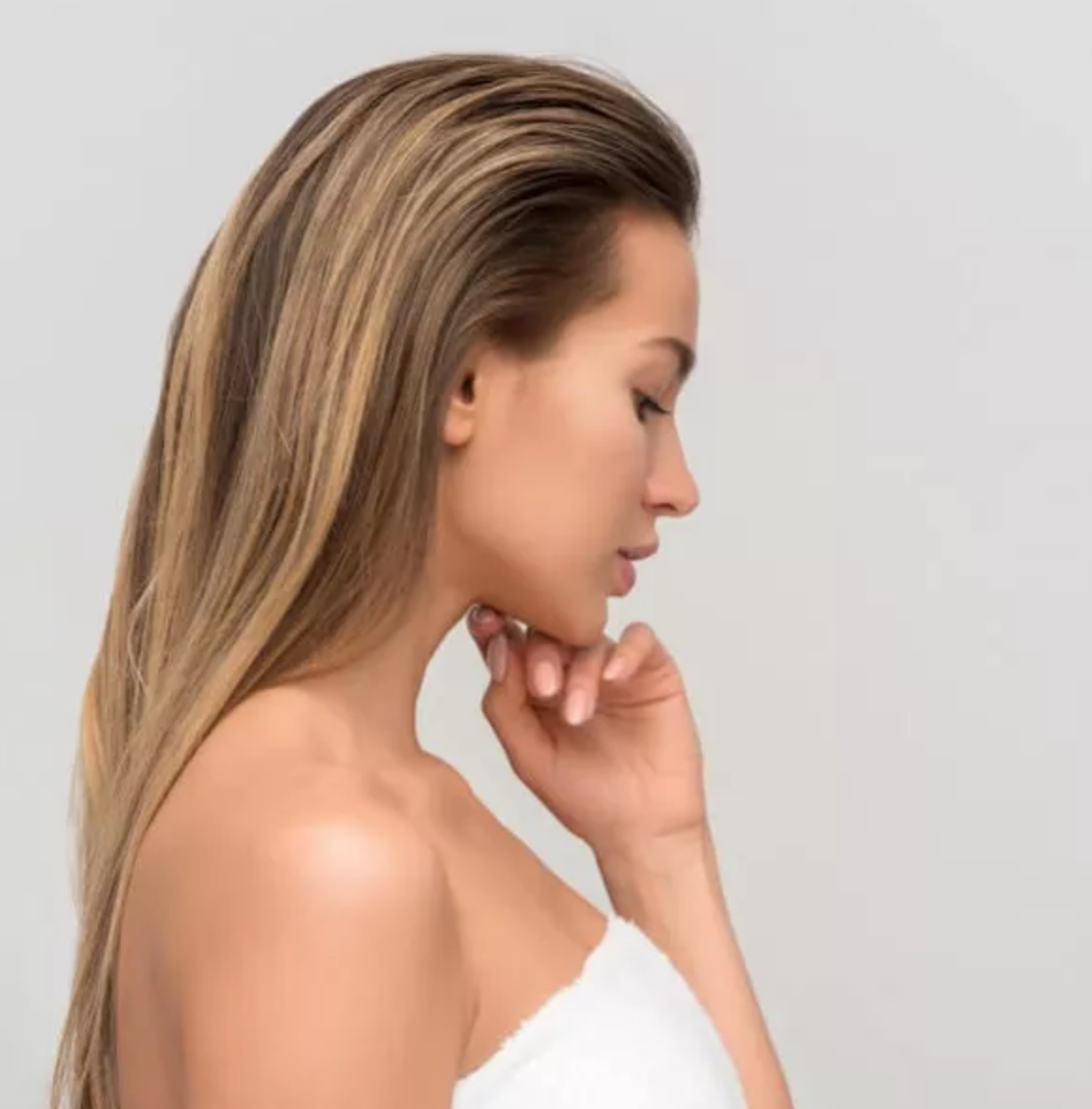 REMOVING MAKEUP, THE ESSENTIAL STEP
Discover today the beauty gestures for an ideal care routine! Of course, caring for your skin is essential, but hydration also comes from within. So don't forget to drink water!
Your skin accumulates, from morning to night, impurities that weaken the skin barrier and accelerate its aging. At night, our skin regenerates and it is at this time that it regains its strength! This is the moment when the skin recovers from all the external attacks suffered during the day. 
It is very often when you forget to remove make-up before going to bed that the next day, pimples will appear and the oily skin effect will be even greater. We insist, make-up removal is the essential beauty gesture.
To put all the chances on your side, do not skip the make-up removal step under any circumstances. After make-up removal, you should of course opt for natural and certified organic products for beautiful and healthy skin day after day!
THE TRIPLE CLEANSING, THE ALLY OF OILY SKINS
Clean, purified skin is the basis of any skin care routine. By cleansing in the morning and in the evening, you allow it to get rid of all impurities.
Every night, adopt triple makeup removal. This ritual inspired by Asian beauty gestures is passed down from generation to generation to cleanse the skin deeply. Daily use of this routine prepares your skin to receive the treatments and to benefit from their active ingredients 100%.
Oily skin needs to be cleansed but above all it needs to be treated properly! If your T-zone is oily, it is defending itself and this is its way of making you understand it. At first glance, you might think that you shouldn't moisturize your skin, but on the contrary, it's because it's not moisturized enough that it produces sebum. As a result, you end up with oily skin because it defends itself from external attacks.
The triple cleansing will allow your skin to be rid of all the impurities it has accumulated during the day. And finally, it will be ready to be properly moisturized with a mask and/or aloe vera gel that will deeply nourish.
In the morning, use only ORGANIC Cleansing Grey Jelly to remove excess sebum from the night and cool down.
Discover now our special oily skin routine!
STEP 1: THE TRIPLE CLEANING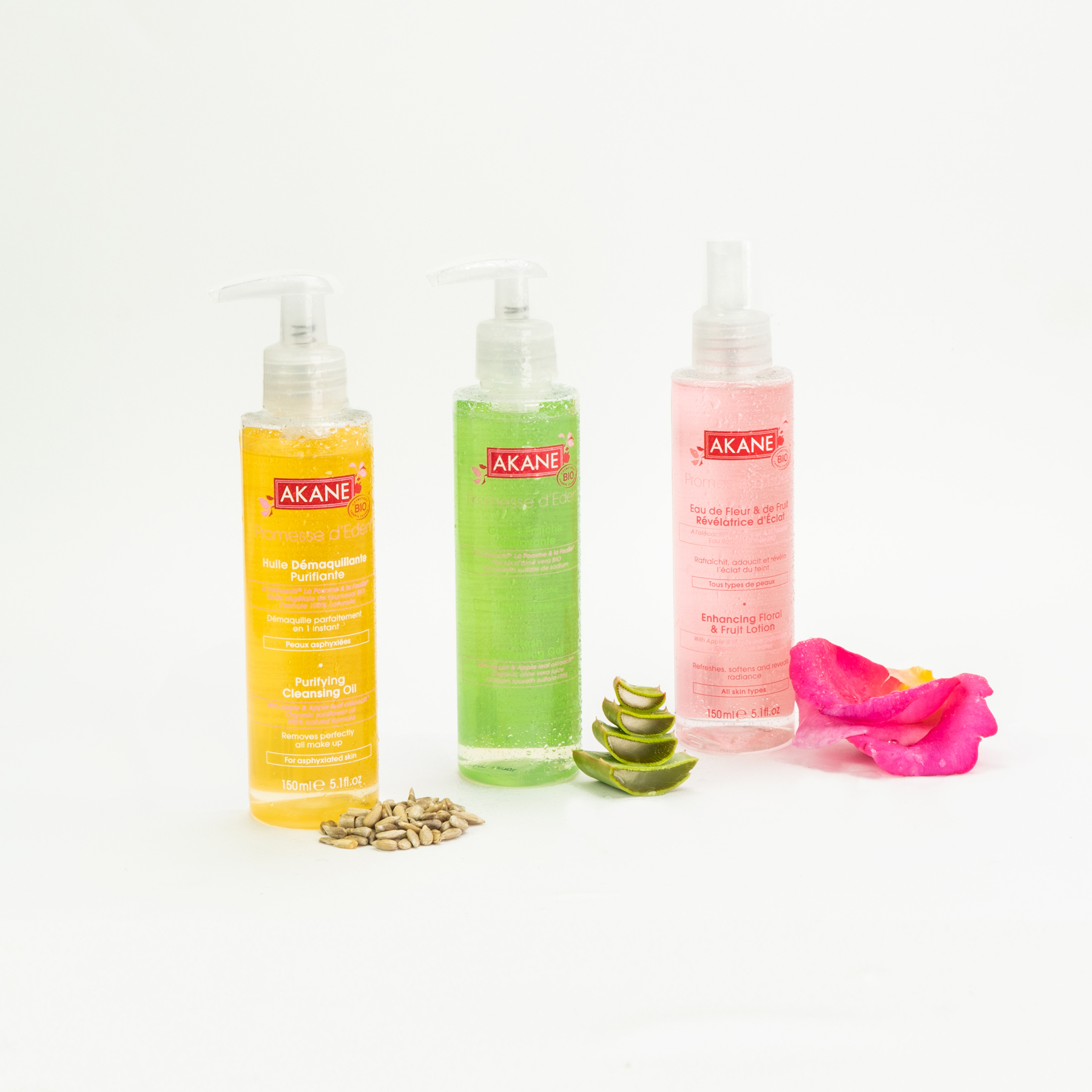 BEAUTY TIP N°1: ORGANIC PURIFYING MAKE-UP REMOVER OIL
The first step in Triple Makeup Removal is to use an oily solution to remove any foreign body from the skin,organic makeup remover oil. It is essential for your facial skin to remove make-up to give it all the moisture it deserves. Why use make-up remover oils? Oils are an ideal cleanser because they attract greasy substances like her and allow a deep cleansing of the skin.
Don't panic! The use of an oil will not make your skin greasier, it is a common misconception. The Organic Purifying Cleansing Oil will dissolve make-up, impurities and remove the excess sebum that your face has accumulated throughout the day.
Effective even on waterproof make-up, it leaves skin supple and soft without an oily film. 100% natural formula, silicone free, preservative and phenoxyethanol free.
BEAUTY TIP N°2: FRESH ORGANIC CLEANSING JELLY
Our organic facial cleanser is the second step in the Triple Cleansing process. It is the purifying element with a super pleasant texture! Once the impurities have been removed by the Purifying Cleansing Oil, the jelly deeply cleanses the face. Soft and fresh, your skin is ready to receive the care it needs.
Paraben-free, SLS-free, PEG-free, silicone-free and phenoxyethanol-free formula.
Tip: Emulsify the Fresh Cleansing Jelly with a konjac charcoal sponge. It deeply cleanses the skin, gently exfoliates and tightens the pores. Enriched with bamboo charcoal, it is particularly suitable for combination to oily skin, prone to imperfections. With daily use, goodbye blackheads and imperfections!
BEAUTY GESTURE N°3: ORGANIC FLOWER AND FRUIT WATER
The third and final step in make-up removal is to use a rosewater mist. L'Eau de Fleur et de Fruit BIO is a spray lotion based on rose water. It removes limescale residues, refreshes, soothes and reveals the radiance of the complexion. An addictive beauty gesture! This lotion allows you to end your routine in beauty!
100% natural formula, without PEGs, silicone, phenoxyethanol and alcohol.
STEP 2: MOISTURIZING CARE
As mentioned above, oily skin is generally oily because it defends itself from external aggressions and this is its way of claiming hydration and protection. It is therefore important to take care of it and not to weaken it by trying to strip it. But you shouldn't choose just any type of moisturizer. To moisturize oily skin without drowning it with products, choose a cream or gel with a light texture that absorbs excess sebum. Aloe vera gel is the ideal treatment for excess sebum.
The Organic Moisturizing Infusion Jelly combines Pure Organic Aloe Vera Juice, Oléoactif® Akane and vegetable betaine in an ultra-fresh jelly texture. Its high content of Pure Organic Aloe Vera Juice (95%) makes it a must-have that refreshes, rehydrates and soothes in a single gesture without leaving an oily film!
Finally, if the first signs of aging are felt and the skin is slowly but surely slackening, I opt for the Face Lift and Eye Contour Serum every night under the Moisturizing Melting Cream or the Moisturizing Infusion Jelly. If you prefer a creamy texture, the Moisturizing Melting Cream will be ideal and will make you feel like you're on a little cloud of cotton. In one single gesture, its texture smoothes fine lines, redraws the oval of the face, corrects dark circles and puffiness to illuminate the eyes. For even more effect, you can put your serum in the fridge.
STEP 3: THE MASKS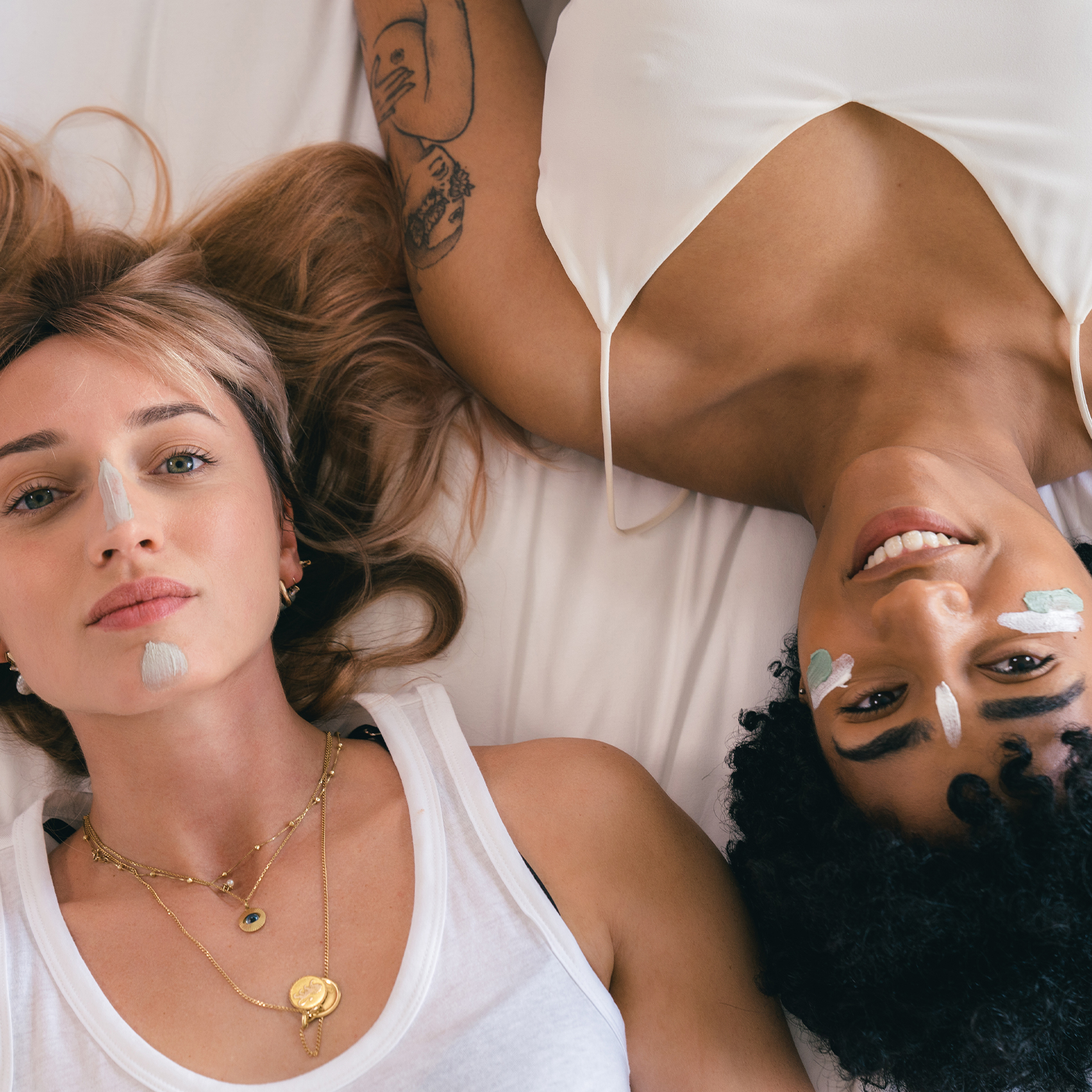 OUR ADVICE
The exfoliation box is essential to balance the skin of combination to oily skins and awaken the radiance of the complexion.
Ideally, gentle, chemical exfoliation should be used. Avoid coarse mechanical exfoliation which tends to irritate and weaken the skin. It is preferable to choose masks with enzymatic exfoliation such as our 2 in 1 exfoliating mask, the Organic Granite Pink Mask. This way, you will cleanse your skin gently without aggressing it.
For a complete and optimal beauty routine, I opt for a green clay mask, the Green Mask Cataplasm. Generally speaking, clay is the best ally of skin types. The green clay and the tea tree essential oil it contains act as a real treatment for oily skin and against imperfections such as acne pimples. The thick green clay, placed in a cataplasm, absorbs excess sebum from your skin for a deep treatment.
If your skin is oily and shiny only on the T-zone, our advice is to use the Mud Grey Mask. Enriched with organic lavender floral water and specifically designed to treat this area, it will act as a purifier by tightening the pores and refining the skin texture. You will find your skin smooth and homogeneous. Use this mask in duo with the green mask cataplasm and goodbye imperfections! The tighter your pores, the less likely you are to get acne!
If I want a gentle exfoliation, I choose to apply the Organic Granite Pink Mask once or twice a week. Its unique formula combines Akane Oléoactif®, fruit AHAs and apple seed powder for a gentle chemical and mechanical double peel. Used over the long term, it reduces acne scars and clarifies the skin. Day after day the complexion is more even and the skin more radiant. Scrubbing is the perfect treatment for deep pore cleansing.
If my complexion is blurred and lacks radiance, I use a charcoal mask, the Organic Milky Black Mask, once or twice a week. Its formula combines Oléoactif® Akane, activated vegetable carbon and olive kernel powder to cleanse, purify, remove impurities and mattify mixed to oily areas of the face. Perfectly clean, your skin is soft and matified. Goodbye oily skin and pimples!
If you're cracking up, don't hesitate to share your opinion with us in the comments section of your favourite products by filling in your skin type!
Special ritual for oily skin
Would you like personalized advice for your beauty routine?
- Call us for free at 06 47 59 30 24our beauty consultant answers all your questions
- Make your skin diagnosis directly online.

Article written by : Aline Foulet

Founder of the cosmetic brand Bio Akane Skincare

Akane Blog