Our skin suffers daily from multiple external aggressions, whether you live in the city centre or on the outskirts. Day after day, the pores of our facial skin can dilate and become visible. There are many reasons for this: excess sebum, oily skin, lack of cleansing, pollution, the passage of time, age, accumulated impurities, etc... Pollution, which causes blackheads and other imperfections, is the number one enemy of our skin. Discover today our advice and beauty solutions to reduce the appearance of dilated pores. 
WHY THE PORES OF THE FACIAL SKIN DILATE
WHAT'S A DILATED PORE?
By definition, a skin pore is a tiny opening in the skin of the face through which sweat and sebum flows.
How do you recognize him? It is dilated when it expands due to external aggressions or lack of care and gives the impression that it is a blackhead. When it is dilated, the skin becomes more easily oily and impurities and imperfections accumulate inside the pore: acne, sebum, blackheads, etc.
THE CAUSES OF DILATED PORES
EXTERNAL FACTORS
Indeed, dilated pores are caused by various factors but they are not a fatality. They are especially present on skin that suffers from excess sebum, which is oily and is generally accompanied by blackheads.
Dilated and visible pores are usually located on oily facial areas such as the T-zone (forehead, nose, chin) and on the cheeks. But it is also possible to have the entire face with dilated pores. The nose and cheeks are the areas most affected by this phenomenon. In this situation, dead cells and sebum gradually accumulate and the pores become even more visible.
MAKE-UP
Dilated pores become more and more common when you don't take enough care of your skin or don't notice them soon enough. The larger the pores are, the more impurities and everyday dirt will settle in. Afterwards, you will most likely see blackheads, acne and other blemishes appear.
Make-up is also one of the reasons that can cause dilated facial pores. In general, foundations fill the skin's pores and prevent them from breathing throughout the day. If make-up removal is not regular, day after day the skin becomes oily, the pores gradually dilate and acne may appear . To avoid these consequences, never forget to moisturize your skin with a suitable cream, serum or oil before applying your make-up. And above all, never skip the make-up removal stage. Moreover, we advise you to use organic and natural make-up, it's good for you but also for the planet! 
DEHYDRATED SKIN AND DILATED PORES
Having dehydrated skin means that you have skin that needs water. However, this type of skin is often closely related to dry skin, which needs oil. Your skin is dehydrated if your T-zone has a tendency to shine, you have dilated pores in certain areas and you feel tightness when your skin is subjected to external aggressions such as cold, wind, pollution, sun...
You should know that naturally, our body contains hyaluronic acid which has the role of hydrating the skin. Having undergone these attacks your skin has tried to defend itself and it is possible that the quantity of hyaluronic acid has weakened faster than expected. It is therefore necessary to give your skin the appropriate care to moisturize it in depth. Adopt a natural beauty routine that can only do you good!
OUR ADVICE: HOW TO TIGHTEN MY DILATED PORES?
CLEANING, AN INDISPENSABLE STEP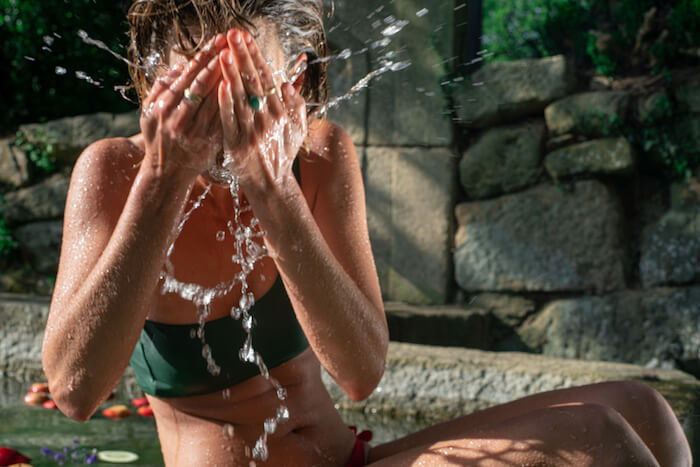 As you know, at Akane we firmly believe that today's skincare is tomorrow's make-up. Cleansing is a beauty asset for all skin types. It is the moment when your skin is prepared to receive the care it needs.
We have adopted the triple make-up removal: remove make-up with our organic make-up remover oil, cleanse our skin with our organic cleansing gel and remove limescale with our organic rose water. Our jelly is the ideal cleanser for all skin types, its formula enriched with pure aloe vera juice soothes sensitive skin. Cleansing your skin is essential to remove all impurities in order to prepare it to receive the appropriate care and products.
THE ROUTINE MASK, OUR ANTI-DILATED PORE SOLUTION
Blackheads and enlarged pores are not a fatality, you can tighten them and reduce their appearance to regain clear, smooth skin. Daily skincare is a very good solution to reduce the appearance of pores and blackheads but sometimes our face needs a little boost, and for that, masks are there!
MULTIMASKING, A COMPLETE TREATMENT TO TIGHTEN THE DILATED PORES OF THE FACE

Multimasking is a trend straight from Japan. It is a healing ritual passed down from generation to generation. 
THE MULTIMASKING ROUTINE: HOW DOES IT WORK?
All you need is 2 or 3 masks that correspond to a problem area of your skin (oily skin, dilated pores, blackheads, etc.).
The Green Clay Mask, Green Mask Cataplasm, is ideal for oily skin. It acts as a real blotter by absorbing and regulating excess sebum.
---------------------------------------
⭐⭐⭐⭐⭐ 5/5
Lea - "Great mask! The texture is pleasant, the smell is neutral and it leaves the skin feeling nice after use!"
---------------------------------------
You can make this mask a weekly routine by applying it once or twice a week and leaving it on for 5 to 10 minutes. Enjoy the instant freshness of this product once applied to your skin. This product will also help fight acne.
For the second step, prefer the Mud Grey Mask which is applied on the T zone. Composed of white clay, strawberry leaf extract and lavender, it tightens the pores and refines the skin texture. White clay is known for its detoxifying, soothing and healing properties. Apply once or twice a week to the affected area of the face and leave on for 5 to 10 minutes.
---------------------------------------
⭐⭐⭐⭐⭐ 5/5
Ludivine - "Magnificent. Mask that reduces pores the first time you use it."
---------------------------------------
Once the multimasking routine is over, our advice is to rinse your face with fresh water and then use our Flower and Fruit Water on your face to tighten the pores.
Then apply the products specific to your skin, Bed & Breaksfat Oil, our organic hyaluronic acid cream or our organic aloe vera gel. You will be left with a rested skin and an awake complexion!
---------------------------------------
⭐⭐⭐⭐⭐ 5/5
Manon - "Smell, texture and compo, everything is perfect! Bravo Akane!"
---------------------------------------
In short, these 2 masks are the ideal combo for oily skin with dilated pores. Apply them at the same time to specific areas of the face twice a week and you will find your skin clear and smooth!
Article written by : Aline Foulet
Founder of the cosmetic brand Bio Akane Skincare
------------------------------------------------------------------------------------------
Would you like personalized advice for your beauty routine?
- Call us free of charge on 06 47 59 30 24, our beauty consultant Akane will be happy to answer all your questions.
- Make your skin diagnosis directly online to find out your skin's needs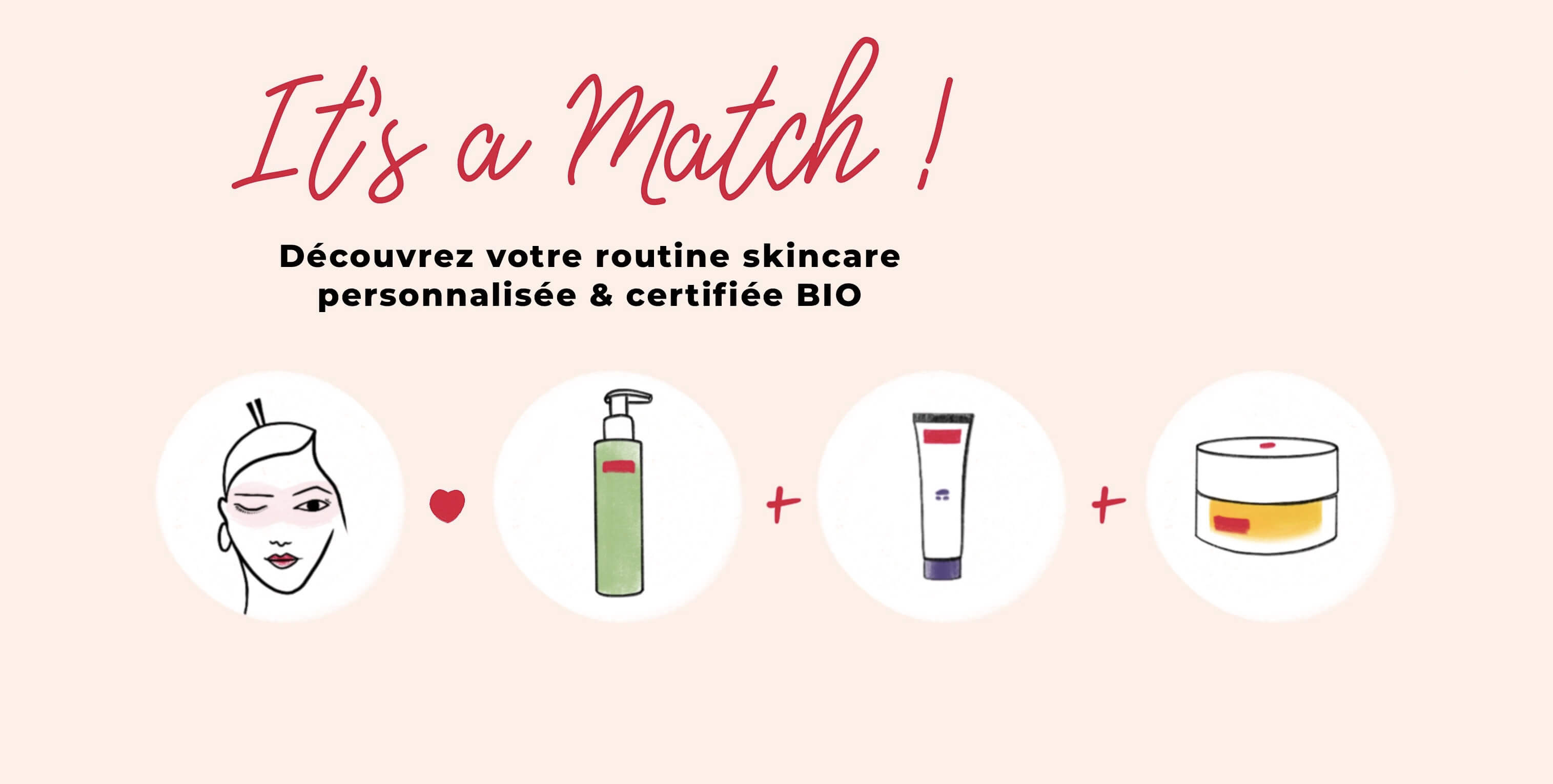 Some questions about dilated pores
How to tighten enlarged pores?
To tighten a dilated pore, you must first cleanse your skin thoroughly with gentle products: use a cleansing product adapted to the nature of your skin, apply a light moisturizing cream and a weekly clay mask... no more dilated pores!
How to treat enlarged pores?
Enlarged pores are not inevitable. Daily skin cleansing, a natural BB cream, free of mineral oil, and a suitable make-up remover to allow your skin to breathe are the basis for healthy, clear skin. Blackheads will soon be a bad memory!
How to avoid dilated pores?
Cleansing the face daily is the basis for healthy, clear skin. There is no need to strip, as this will only increase sebum production. Opt for a soap or a gentle washing gel and a konjac sponge enriched with green, pink or white clay, depending on your skin type.
How to reduce enlarged pores?
In order to reduce dilated pores, apply a clay mask to the cleansed face, which you will choose according to your skin type. Rinse with lukewarm water and rinse with a final spray of cold water. Then apply a moisturizing treatment!