The virtues of cider vinegar for the face
17/07/2020
We would rather tend to store it in our kitchen cupboards and yet... cider vinegar has its place in our bathroom, so much its benefits for the skin and hair are numerous! Diluted with water to reduce its acidity, it becomes a soft and natural cosmetic, to be applied especially on the face!
HOW IS CIDER VINEGAR MADE?
Sanitizing, antifungal, smoothing, toning ... cider vinegar has many virtues for our health and beauty! Before becoming a care product with proven effects, a long manufacturing process takes place: the apples are harvested, cleaned, crushed and then slowly pressed in a press. The juice obtained is kept in fermentation tanks and the sugar it contains is then transformed into alcohol, thanks to the naturally present yeasts. So here we are in front of a good apple cider, the one that is tasted in bowls in all the crêperies of France.
But to become "cider vinegar", a second fermentation process then takes place. This is called "acetic" fermentation, during which the cider comes into contact with oxygen. During this maturation phase, which can last more than a year, the cider will evolve, the alcohol is converted into acetic acid, thus giving birth to a cider vinegar, which contains neither sugar nor alcohol. Result: a sweet vinegar, extremely rich in nutrients and trace elements! To fully benefit from all its properties, choose it organic, without any additives.
Rich in minerals, trace elements and amino acids, cider vinegar contains vitamins A, B1, B2, C and pectin. Their benefits on the skin are innumerable:
Minerals and trace elements (such as phosphorus, potassium, calcium, sodium, sulphur, iron, fluorine...): minerals and trace elements stimulate cells and promote hydration by transporting water through the epidermis. Cell regeneration is boosted and the pH of the skin is rebalanced. Anti-inflammatory and moisturizing, they help maintain the skin's elasticity and prevent skin aging.
- Amino acids: they are essential to the beauty of the skin since they help to strengthen the connective tissue and contribute to nourishing the epidermis in depth thanks to the nutrients they provide. The skin remains supple, elastic and youthful for longer.
- Vitamin A: If there is a vitamin essential to the beauty of the skin, it is it! Indeed, it moisturizes the epidermis, maintains the collagen level responsible for the pulpy and smooth appearance of the face, while activating cell renewal thanks to its antioxidant properties!
- Vitamin B1: Vitamin B1 (or thiamine) transforms carbohydrates and lipids into energy, metabolizes proteins, and contributes to the suppleness and tone of the skin.
- Vitamin B2: it is involved in various metabolic processes. Like vitamin B1, it participates in the transformation of carbohydrates and lipids into energy. It also helps to protect the skin and mucous membranes, and to repair muscles in the event of muscular disorders.
- Vitamin C: it is essential for the beauty of the skin! Vitamin C stimulates the collagen naturally present in the body, giving the skin its firmness and elasticity. Thanks to its antioxidant power, it also reduces the production of melamine, which is responsible for brown spots.
- Pectin: this vegetable substance, found in abundance in apples, has an incredible gelling power. Its ability to capture heavy metals effectively eliminates toxins present in the skin.
WHY USE CIDER VINEGAR ON YOUR FACE?
Thanks to the nutrients, vitamins, minerals and enzymes it contains, cider vinegar is ideal for displaying clean, fresh skin! Natural antibacterial, it helps to fight against blackheads and small unsightly pimples.
TO FIGHT ACNE AND REBALANCE THE SKIN
Cider vinegar is particularly recommended for combination to oily skin with mild to moderate acne problems. It gently cleanses the pores of the skin without drying the epidermis. The skin is rid of its impurities without being stripped, and will therefore not produce even more sebum to defend itself but, on the contrary, regain its balance day after day.
Thanks to its astringent power, cider vinegar is perfect for tightening tissues. The pores are less visible, the skin is smooth and soft, and the complexion is unified.
Finally, if your face shows small pimples,old acne scars or areas of inflammation, cider vinegar will help you disinfect, soothe and care for your skin. It is a powerful antibacterial, antifungal and anti-inflammatory, and fades marks over time.
Finally, cider vinegar helps to rebalance the pH of the skin, and offers a gentle and effective cleansing for dry, combination or oily skin!
TO BLUR THE SIGNS OF AGING
Its antioxidant action and its ability to firm the skin make cider vinegar the ally of mature and tired skins. Used daily, it contributes to the reduction of wrinkles and fine lines, reduces age spots and energizes the epidermis!
HOW TO USE IT?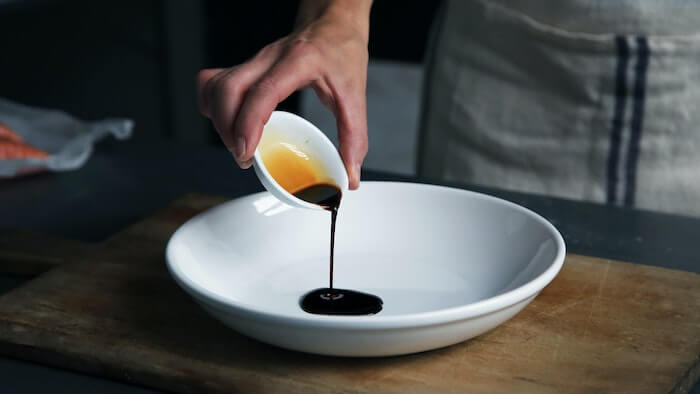 It is applied in the evening, like a tonic lotion, on clean and dry skin. To do this, simply dilute 2 tablespoons of cider vinegar in a small glass of lukewarm water, then soak a cotton pad and rub it over the entire face. Leave to act for 15 to 30 minutes and then rinse with warm water.
Caution, never use pure cider vinegar to avoid burns. It is imperative to always cut it with water, with a minimum dilution of 50/50.
It is also possible to add it to other ingredients and take advantage of its action in the form of a scrubbing mask: mix 3 tablespoons of powdered clay (green for oily skin, white or pink for sensitive skin, yellow for mature skin or red for tired skin) with 1 centilitre of cider vinegar and 1 centilitre of water. Mix until a smooth and homogeneous paste is obtained, then apply to the entire face. Leave on for 15 minutes then rinse thoroughly with lukewarm water. Rinse off with fresh water to activate blood circulation and tighten pores.
HOW TO CHOOSE THE RIGHT CIDER VINEGAR?
Before buying your cider vinegar, carefully observe its appearance in the bottle. In artisanal vinegars, a thick deposit forms on the surface: this is the "mother of vinegar". This substance tells you that the vinegar is of quality, and that it has retained all its properties and many nutrients! The best part? An organic cider vinegar, artisanal and unpasteurized, for a healthy and natural beauty!
Discover our Akane apple-based skin care products
Would you like personalized advice for your beauty routine?
- Call us for free at 06 47 59 30 24our beauty consultant answers all your questions
- Make your skin diagnosis directly online.

Article written by : Aline Foulet

Founder of the cosmetic brand Bio Akane Skincare

Akane Blog