The virtues of clay for the face
05/12/2019
Clay is a natural product that has been used for centuries for its many virtues. Particularly appreciated for its healing, purifying and absorbent properties, clay for the face in particular has become an essential part of our beauty routine.
Discover all the benefits of clay for the face.
WHAT IS CLAY?
Clay is a 100% natural sedimentary rock, extremely rich in mineral salts. Silica, aluminium, magnesium, calcium, iron, copper, potassium and sodium are all part of its composition. In contact with water, it transforms into a malleable paste, which has been used for several centuries for its multiple properties: as a purifying mask for the face, as a detoxifying hair care, as a poultice to relieve inflammation... This volcanic earth also contains trace elements, mineral nutrients essential to the body.
There are several types of face clays. Each of them (green clay, white clay, red clay, yellow clay, pink clay, blue clay and rhassoul) has its own specificity: indeed these colours are not there to brighten the product, but define the rate of oxidation of the iron that the clay contains. The warmer the colour, the more iron oxides the clay contains (red clay, yellow clay). Conversely, the colder the shade (green, blue), the less the clay is oxidized. White clay therefore, by definition, contains almost none.
Clay for the face is sold commercially as a powder or in the form of plates to be diluted, but also in the form of ready-to-use pastes. The properties remain exactly the same, it is up to you to choose the preparation you prefer.
THE PROPERTIES OF CLAY
Clay, and more specifically clay for the face, has many properties that explain its immense success over time. Indeed, the list of its benefits is impressive: absorbing, antiseptic, healing, regulating, remineralizing, cleansing, purifying, relaxing, detoxifying, regenerating ... it is therefore used in the world of cosmetics as well as in the field of health. There are even clay therapy cures, as the therapeutic virtues of clay on the body are proven and effective.
Facial clay is probably the most familiar use for it. It appears to be an essential part of the beauty routine. Because it gently cleanses while purifying the skin, it is used as a mask that is applied to the entire face or more specifically to the T-zone. The choice of clay will then be essential in order to offer your skin the natural product best suited to its nature. The new trend straight from Japan, called multi-masking, proposes to apply several masks simultaneously on different areas. The objective: a tailor-made treatment that allows you to act effectively and in a targeted manner!
WHICH FACE CLAY TO CHOOSE
Because there are as many different types of clay for the face as there are different skins, it is important to know the properties of each of them. While some people have combination skin, others suffer from dry and irritated skin or, on the other hand, have the problems associated with oily and/or acneic skin. Similarly, young skin does not have the same concerns as mature skin, just as darker skin does not have the same needs as very fair skin.
Illite and Montmorillonnite are the two most common types of facial clay. Illite has a high absorbency but a rather low adsorption rate, unlike Montmorillonnite, which has a higher adsorption capacity than its absorbency. It is important not to confuse the two terms, despite their almost similar consonance: absorption induces that the active ingredients applied will penetrate the cutaneous barrier. Conversely, adsorption is a phenomenon according to which the active ingredients are going to attach themselves to the surface of the skin, without penetrating it.
To each skin, its clay:
- Green clay: Green clay for the face is the one we know the most. It is the essential treatment for oily and/or acne-prone skin, but is also suitable for combination skin. It cleanses the face, purifies the skin, and therefore helps to fight against the overproduction of sebum and the appearance of blackheads.
- White clay: less well known than green clay, white clay nevertheless conceals unsuspected benefits. Belonging to the family of kaolin minerals, it has a strong healing power and is particularly rich in silicon, a chemical element that maintains the hydration of tissues. As a result, it is particularly suitable for dry and sensitive skin, which is often the case with mature skin.
- Red clay: although it is suitable for all skins, red clay is the ally of couperose skins that tend to redden. Very rich in trace elements and iron oxide, it improves blood circulation, illuminates the complexion, purifies and soothes the skin, especially in case of irritation. Its matifying and decongestant properties allow your skin to regain all its beauty.
- Yellow clay: this clay is particularly recommended for sensitive and mature skin. Its purifying, stimulating, smoothing and toning properties help to illuminate facial features. Although softer than green clay, it is also suitable for oily skin as it is also purifying and matifying!
- Pink clay: here we are in the presence of a mixture of red clay and white clay. The pink clay thus has the virtues of each of these clays. It cleans, detoxifies, purifies and mattifies the skin while absorbing excess sebum and giving a healthy glow. Softening, it is adapted to reactive skins and is suitable for all skin types, even the driest.
- Blue clay: we hear less often and yet... blue clay has many assets. Unlike other types of clay, it cannot be ingested. It contains fewer mineral salts than green clay and is therefore less absorbent. Oxygenating and detoxifying, it is especially formidable against grey skin: it revives dull complexions, relaxes drawn features while cleansing the pores of the skin. A true beauty ally that suits all skin types!
- Rhassoul : " Rhassoul " literally means " the earth that washes ". This volcanic clay from North Africa has been used since the dawn of time during the hammam ritual because it has exfoliating and purifying virtues. A natural rock composed of silicon, magnesium and lithium, it cleanses the skin by absorbing impurities. Unlike conventional soaps, it is free of surfactants, which allows it to respect the skin's hydrolipidic film. It is therefore suitable for all skin types. It is sold in powder or platelet form to be diluted in water.
HOW TO USE CLAY FOR THE FACE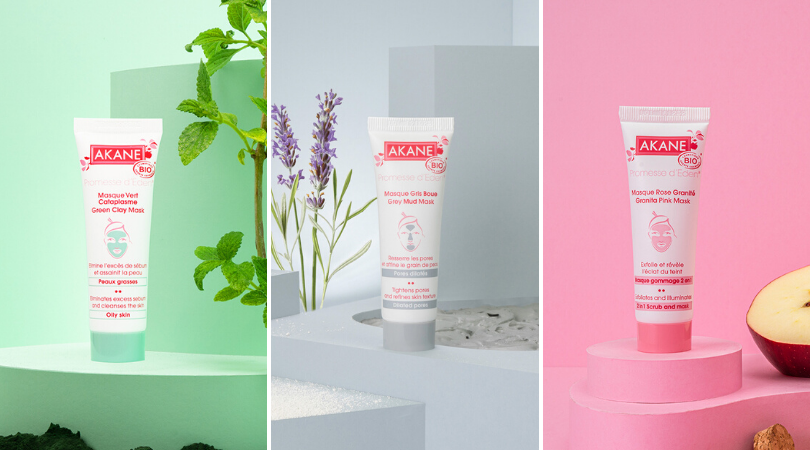 At Akane, we offer three types of clay face masks:
- the Green Clay Mask Green Cataplasm,
- the mask with white clay and Mud Grey Lavandin floral water,
- the Rose Granite Pink Clay Mask.
Our Green Cataplasm and Mud Grey masks are to be applied twice a week, all over the face or on the T-zone according to your needs. Leave on for 5 minutes, then rinse with warm water, ideally with our konjac sponges. Our Rose Granité mask is to be applied twice a week, for 10 minutes, on the whole face or as an eye contour treatment. You can also use it as an exfoliation on wet skin.
To prepare your clay mask for the face yourself, here are the steps:
- Pour some powder into a bowl and add a small amount of water or floral water,
- Stir with a wooden spoon until a smooth, homogeneous paste is obtained and apply it to the affected areas,
- Leave it on for the time indicated, no more and no less. The mask must be allowed to work without damaging the skin,
- Rinse your face with clear water and dry it gently.
Would you like personalized advice for your beauty routine?
- Call us for free at 06 47 59 30 24our beauty consultant answers all your questions
- Make your skin diagnosis directly online.

Article written by : Aline Foulet

Founder of the cosmetic brand Bio Akane Skincare

Akane Blog