How to sort your bathroom waste?
14/04/2021
The bathroom is THE room in the house that resists sorting. However, it should not escape the rule of recycling. Shampoo, razor, cotton buds, cosmetics, face cream... The list of waste is long and many of them end up in the wrong bin by mistake. Find out how to correctly sort your bathroom waste (we also share some tips on how to reduce the amount).
SELECTIVE SORTING: GOOD FOR THE PLANET
First of all, a reminder of the importance of sorting.
Waste separation is beneficial for a multitude of actors: for nature, for wildlife, for our children, and even for our budget.
The products we consume are not all made from inexhaustible materials. The sorting of waste allows us to recover certain materials and reuse them as raw materials. For example, recycling one tonne of PET plastic saves 800 kg of crude oil. About half of our bathroom waste can be used to create a new good.
The manufacture of new products from recycled raw materials also represents a considerable source of energy savings. Indeed, recycling materials is much less energy consuming than manufacturing new products from scratch.
Recycling helps to protect our ecosystem and the wildlife in it. Recovering materials by sorting waste reduces the extraction of raw materials and thus reduces the possible disturbance and pollution of natural areas. Recycling helps to minimize global warming by reducing the emission of greenhouse gases.
SORTING IN THE BATHROOM
The French are champions of waste sorting but only in the kitchen, whereas the bathroom deserves just as much recycling time! They would be 55% to sort waste in this room, but only 21% would do it correctly. Every year, 75,000 tons of cosmetic and hygiene packaging are wrongly thrown away... Follow the guide to give this waste a second life!
Two different bins are prepared in advance: one for recyclable packaging and another for residual waste.
In the recycling bin, we put :
- cardboard packaging (toothpaste boxes, hair dye boxes, medicine packaging and instructions, toilet paper rolls, cosmetic packaging, etc.)
- plastic bottles (shower gel, shampoo, conditioner...)
- Metals (aerosols such as hairspray, deodorant, mists, shaving cream...)
Please note that the pumps of the bottles must be unscrewed and disposed of in the residual waste bin. To avoid wasting natural resources, it is not necessary to rinse the containers before recycling them. Simply empty the product into the container.
In the residual waste bin, we throw :
- Cotton buds, tubes of toothpaste, jars and tubes of cream, razors, wipes, make-up, tissues, diapers... Everything else in fact!
Glass packaging is less numerous in the bathroom, and having a dedicated bin for it is not particularly necessary (unless space permits). However, you should not forget to recycle them: cough syrup, empty perfume bottles, glass deodorant packaging, glass jars, nail polish... All these glass wastes are recyclable.
RECYCLING OF AKANE COSMETICS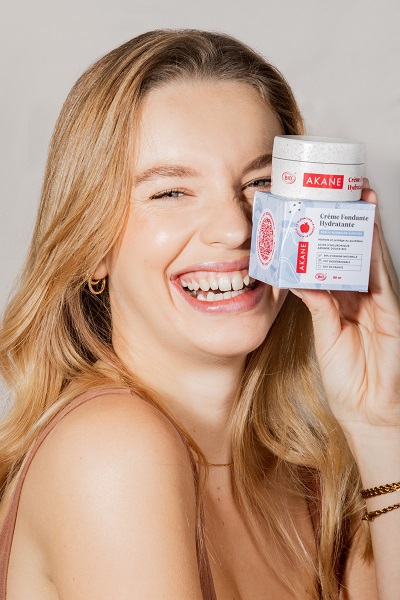 In cosmetics, we first focused on the formulation of care products, rather than on the container. Today, due to the increasing pollution of plastic in our environment, it is time to tackle packaging and each actor in the sector has a role to play. At Akane, we are reviewing all our packaging in order to find the best possible alternative to reduce this pollution. Let's have a look at our new packaging and its recycling.
Make-up remover
The containers for our makeup remover line(organic makeup remover oil, fresh cleansing gel, radiance lotion) are made from 100% recycled plastic and are 100% recyclable. We have exchanged the pump system for a cap so that the entire product can be disposed of in the packaging bin.
The pots
Our creamers are made from sustainable and natural materials and are plastic-free. These new containers are 100% biodegradable. Before you part with your jar, you can refill it with your usual cream by ordering our refillable cartons. You can also give it a second life by reusing it. Otherwise, the jar will be sent to your city's compost or biowaste bin. For more information, please visit our page dedicated to our compostable pots.
The tubes
Our hand care products, our aloe vera jelly and our face masks come in tubes. These containers are now made with 60% recycled plastic. To date, there is no cosmetic tube that can be recycled, so our tubes are thrown away in the residual waste bin.
Konjac sponges
Konjac sponges have the advantage of being 100% natural and 100% biodegradable. Just like our recyclable pots, you can put them in your compost or in your city's biowaste bin.
Glass bottles 
Our regenerating care oil is contained in a glass bottle. The glass bottle is to be recycled in the glass waste bin. The pipette used to remove the oil should be disposed of in the residual waste bin.
Refillable cartons
To allow these packages to be recycled, we suggest you send them by post to the following address Akane, 51 rue Lepic 75018 Paris. You can also send us your e-mail address (simply written on a piece of paper) in order to receive a voucher of 5 € + postal charges (1,28 €) to be used on our website. To find out more, see our page dedicated to our refillable cartons.
TIPS ON HOW TO LIMIT WASTE IN THE BATHROOM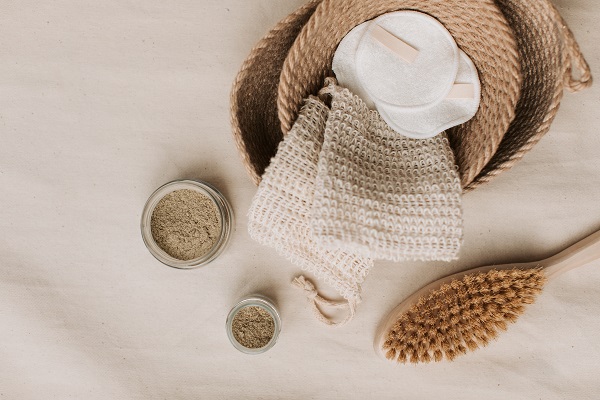 If you sort out your bathroom, it's already very good, but if you also try to limit your waste, it's even better! Here are our tips for reducing the amount of waste.
1. We swap our classic make-up remover fororganic make-up remover oil. This makeup remover only requires the use of your hands, bye the cotton pads!
2. Forget the classic single-use cotton swabs (one of the 10 most common wastes on the beach) and switch to the oriculi. This small bamboo stick is an ecological, economical, recyclable and compostable ear pick.
3. We discover the magic of the naturalKonjac sponge. Just as effective as an electronic cleansing brush, this biodegradable sponge gently cleanses and exfoliates the skin. Once it's used up (after about 3 months), we put it in our compost.
4. Swap disposable cotton pads for washable ones. They do the job just as well, are durable, easy to wash and much better for the environment.
5. Switch to organic solid soap and shampoo. These cleansers are made with non-polluting and skin-friendly raw materials. They are biodegradable and have almost no packaging.
6. We change our habits with a toothpaste or a solid deodorant. These hygiene products are more respectful of your skin and they are 0 waste!
7. We replace the classic plastic toothbrush against a bamboo toothbrush. Once at the end of its life, this biodegradable toothbrush goes to the compost! Hop one less waste in the bathroom.
It's up to you now, we're counting on you!
Natural care products and responsible packaging
Would you like personalized advice for your beauty routine?
- Call us for free at 06 47 59 30 24our beauty consultant answers all your questions
- Make your skin diagnosis directly online.

Article written by : Aline Foulet

Founder of the cosmetic brand Bio Akane Skincare

Akane Blog