What are the things not to do in summer?
11/08/2020
Summer is finally here! The warm evenings, the starry nights, the tanned complexion, the wild aperitifs, the sun, the heat... But this beautiful season sometimes requires a little organization, adaptation and anticipation. Here is our checklist of things not to do to avoid the little summer inconveniences.
1. MAKE THE LOBSTER ON THE BEACH
Lying on her beach towel, letting herself be gilded by the sun... It's rather pleasant, we grant you that, but ending up roasted like a lobster is not really the top, nor the goal! The sun certainly brings us many benefits (vitamin D, boost to morale), but its harmful effects on the skin are very present and sometimes even irreversible (sunburn, burns, premature aging of the skin, sunstroke, cancer). So to enjoy it safely, here is a reminder shot:
- we don't expose ourselves between 12 and 4 pm, when the sun's rays are the most aggressive,
- sunscreen is applied regularly,
- you protect yourself with light-colored clothes, a hat and sunglasses.
2. 2. BRUSH YOURSELF WITH MONOI OIL
We've just come out of the 80's, so smearing ourselves with monoi oil before exposing ourselves to the sun is not a good idea. This oil with holiday smells does not protect us from the sun, it has no UV filter and is not intended to be used as a tanning oil either. This is because it attracts the sun's rays and this has the effect of "baking" the skin. The skin quickly dehydrates, reddens and sunburn or even burns appear.
However, monoi oil is known for its moisturizing and soothing properties. It is quite possible to use it as an after-sun lotion to nourish your body, and even your hair!
3. 3. ZAP THE SUNSCREEN TO GET A BETTER TAN
Sun cream is the star of the suitcase, the beach bag, the one that should not be forgotten in summer. It protects you from the bad rays of the sun and in no way prevents you from getting a tan! On the contrary, it ensures you a beautiful complexion that lasts longer. One chooses a sun cream adapted in index according to one's complexion, one is generous in its application, one applies it approximately 20 minutes before exposing oneself and on the whole of one's body (one does not forget the small zones like the ears, the neck, the toes). Reapply every 2 hours.
4. APPLY UNSUITABLE MAKE-UP
In summer, we swap our best makeup tutos for a natural look that lets our skin breathe. We prefer the application of a light texture like a bb cream rather than a foundation that is too covering. If we want to make up our eyes, we turn to waterproof mascara to avoid the panda look when we get out of the water. On the lips, a little coloured moisturising balm and there you have it.
You can also choose not to apply any cosmetics to give your skin a little holiday and let it breathe completely (have you ever heard of cosmetic fasting? ).
On the other hand, in terms of care, we have 4 essentials: sunscreen (we can never say it enough), a gentle facial cleanser, flower water to soothe and refresh and a moisturizing cream adapted to your skin.
5. EXPOSE YOUR SCENTED SKIN TO THE SUN
Applying a bit of perfume is always very pleasant, but in summer be careful of the sun's rays. Pigmentation spots, pimples, allergies can appear following the exposure of your scented skin. The perfume concentrate and the alcohol (even if it evaporates quickly) present in it can be the cause. To avoid these small inconveniences, you can apply your perfume in the form of a mist, spraying it around you and not directly on the skin, at least 15 minutes before sun exposure so that the alcohol evaporates.
6. ONLY TAKE ALONG SWIMSUITS THAT RUN AWAY IN THE FIRST WAVE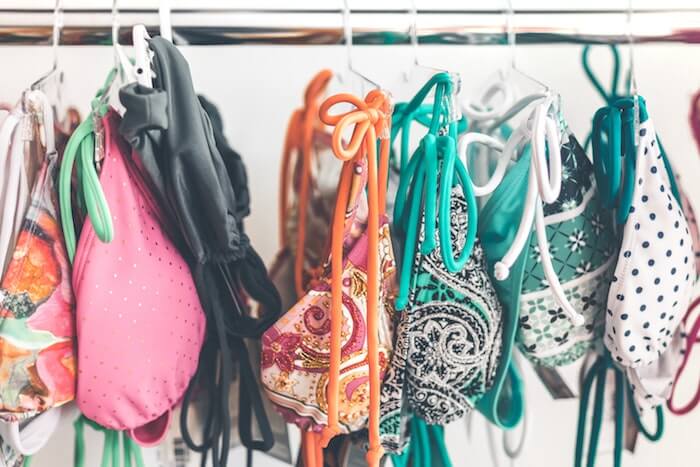 Since it's usually the few weeks of the year when they're out and about, we enjoy wearing our best swimsuits to strut our stuff at the beach and pool. It's true that our crossed bikini with 1001 cords in the back often makes its little effect. For beautiful photos it is validated, but when it comes to confronting the waves, it quickly takes to the open sea! So if we have planned an eventful holiday in the water, we always think of slipping a practical swimsuit into our suitcase, preferably with straps rather than a headband, to make sure it won't leave us as soon as the first wave comes!
7. 7. TANNING ONE'S LEGS AFTER A WAXING SESSION
After a session of depilation, be it waxing, epilation or shaving, the skin is fragile and very sensitive. To avoid any further irritation or even the appearance of irregular colouring and small pimples, legs are left to rest for at least 24 to 48 hours before exposing them to the sun.
8. LEAVE YOUR HAT AND SUNGLASSES AT HOME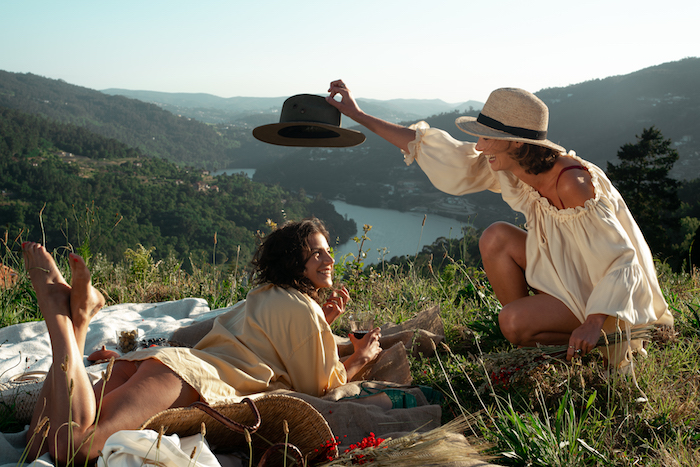 They go hand in hand and are essential to protect you from the sun's rays, so don't forget them or leave them at the bottom of your suitcase! Sunglasses and hat complete the summer look for optimal protection of your scalp and eyes. For sunglasses, make sure you choose a pair that suits your face and has real UV protection. A pair of 3 is recommended for summer holidays. For your hat, it should protect your entire head, ideally with a wide brim to cover your ears (also prone to sunburn). Concerning the material, it must be made with a tight weave to protect you well.
9. DO NOT EXFOLIATE YOUR SKIN
In summer, with the various aggressions your skin is subjected to, small dead cells accumulate on the surface and the complexion dulls... In order to regain soft skin and prolong your tan, you should take a moment to relax and gently exfoliate your skin. Depending on your skin type, it is important to choose a suitable scrub. In addition to smoothing the epidermis and making the complexion uniform, exfoliating the skin then allows for better hydration. During the summer season, make sure to exfoliate your skin preferably in the evening and always moisturize it afterwards.
10. HYDRATE ONLY WITH MOJITOS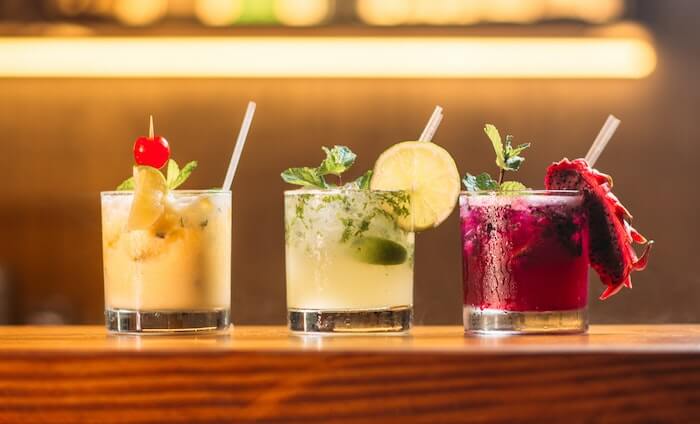 The sun, heat, wind, sand come to attack and dry our skin, it needs water! We start by hydrating our body from the inside by drinking a minimum of 1.5 L of water a day, and unfortunately mojitos don't count... The ideal is to always have your water bottle on hand to hydrate throughout the day, without waiting to get thirsty.
In addition tomoisturizing our body from the inside, we must now pamperour skin! In general, we're not a big fan of the crocodile skin effect, unless we live in a swamp... So to avoid dry skin that feels tight, we moisturize our body thoroughly after each exposure to the sun. Plus, it ensures a long and even tan! For this, we turn to a body cream with a clean and certified organic composition.Aloe vera, known for its moisturizing, soothing, and refreshing virtues, is ideal for moisturizing your body after sun exposure.
Now it's up to you to make the most of this season with the right precautions!
Would you like personalized advice for your beauty routine?
- Call us for free at 06 47 59 30 24our beauty consultant answers all your questions
- Make your skin diagnosis directly online.

Article written by : Aline Foulet

Founder of the cosmetic brand Bio Akane Skincare

Akane Blog